Welshmen Andrew Selby & Fred Evans win European boxing golds
Last updated on .From the section Boxing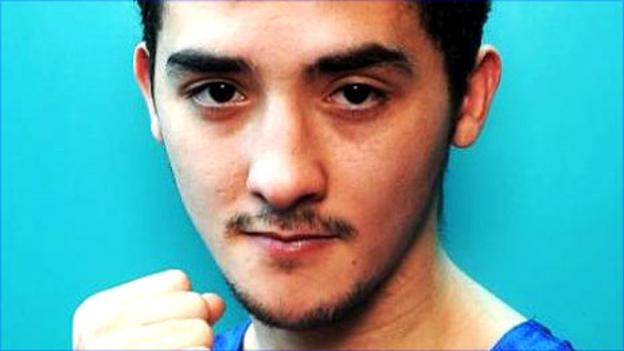 Flyweight Andrew Selby and welterweight Fred Evans became Wales' first European amateur champions in 86 years in Ankara, Turkey, on Friday.
Selby, a bronze medallist in 2008 and 2010, beat former three-time champion Georgy Balakshin of Russia 13-10.
Evans beat Mahamed Nurudzinau of Belarus 15-9 in his final.
Liverpool light-welterweight Tom Stalker had to settle for silver while London light-flyweight Charlie Edwards won bronze.
Selby and Evans were following in the footsteps of England's Luke Campbell, who in 2008 became the first Briton to win European gold in 60 years. Overall, it is Britain's best European Championships showing in more than half a century.
The Welsh pair, both full-time members of the GB Olympics podium squad, still face a fight for Olympic qualification, with Selby going head-to-head with former medallist Khalid Yafai for the single GB slot at 2012.
GB Boxing's performance director, Rob McCracken said: "The European Championships is just about the toughest assignment in the amateur boxing calendar so to come away with two gold, one silver and a bronze is a fantastic performance and augurs very well for the World Championships later this year and the Olympics in 2012.
"The medal winners have all boxed fantastically well throughout the week and thoroughly deserve their rewards. Once again, the team has performed superbly at a major Championship and shown that we can hold our own against the world's top amateur boxing nations."
Barry boxer Selby, 22, capped a remarkable week with a composed performance against his experienced rival, who won a bronze medal at the Beijing Olympics.
Selby said: "It feels like a dream to be standing here with the gold medal. I've trained really hard with the team and all my hard work has paid off. There's no reason why I can't go and win the worlds now too."
Cardiff's Evans, 20, said: "I had a very tough Russian in the semis then I had a tough Georgian in the final so I knew I had to be up for it.
"I've been preparing for weeks for this tournament and everything's gone to plan this week. I just got my head down and trained hard and got fitter.
"I'm early in my career in the seniors so when I moved up from juniors I was still in the same routine. But now I've been in training camps sparring with older guys and I'm really feeling the benefit and realising what I can do."
In his final, Stalker, who moved up from lightweight earlier this year, lost 18-10 to Irishman Ray Moylette, who won his country's first gold of the event. Joe Ward followed up with victory in the light-heavyweight final.