GB boxers guarantee four medals at European Champs
Last updated on .From the section Boxing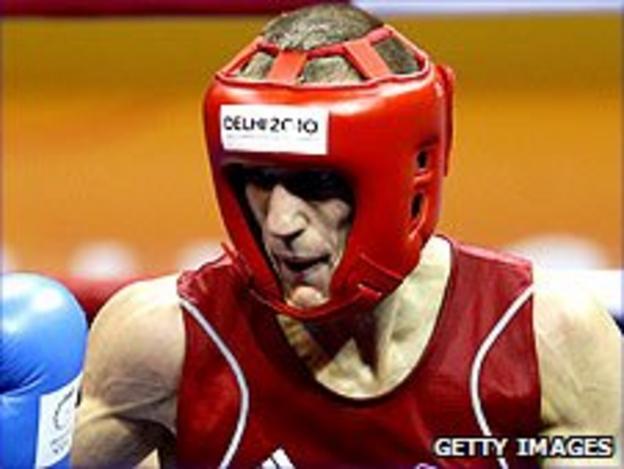 Great Britain are guaranteed four medals at the European Amateur Championships in Ankara and three men will fight for gold in Friday's finals.
Light-welterweight Tom Stalker, flyweight Andrew Selby and welterweight Fred Evans all came through their semi-finals on Thursday.
London light-flyweight Charlie Edwards had to settle for bronze in his first senior international event.
Stalker won silver last year, while Selby won bronze in 2008 and 2010.
Head coach Rob McCracken's team will look to improve on last year's display in Moscow, when they won three silver and two bronze medals, their best showing at the event since 1961.
The 26-year-old Stalker, who also received a walkover into last year's final, was declared the winner by the referee when scheduled Italian opponent Vincenzo Mangiacapre failed to show. The Liverpudlian will face Ireland's Ray Moylette in the final.
Barry boxer Selby put on dazzling display to defeat Alexandr Riscan of Moldova 24-12, while Cardiff boxer Evans delivered a combination of control and power to overcome Zael Kvachatadze of Georgia 20-16.
Eighteen-year-old Edwards put up a promising performance against Azerbaijan's Salman Alizada but found his opponent a little too experienced and lost 24-14.
Stalker said: "Although I got the walkover I've earned that little bit of luck and can't wait to get in there for the final now. I feel stronger and fitter at the new weight [Stalker moved up from lightweight earlier this year] and I'm desperate to go one better than last year."
Selby, 22, said: "I did not want to come away with another bronze and I always fancied myself to win it. I felt good and I think it was my speed and movement that made the difference and earnt me a place in the final."
Edwards has impressed in his first major tournament and, having won a title at the senior Amateur Boxing Association of England championships in May, he has now put himself firmly in the frame for qualification for London 2012.
He said: "It's been a really great experience and I've given it 110% in all my bouts.
"I'm disappointed not to go further but it's a learning curve and I'll come back bigger and stronger in the next tournament. It's great to be going home with a European bronze medal round my neck."