Floyd Mayweather to make return against Victor Ortiz
Last updated on .From the section Boxing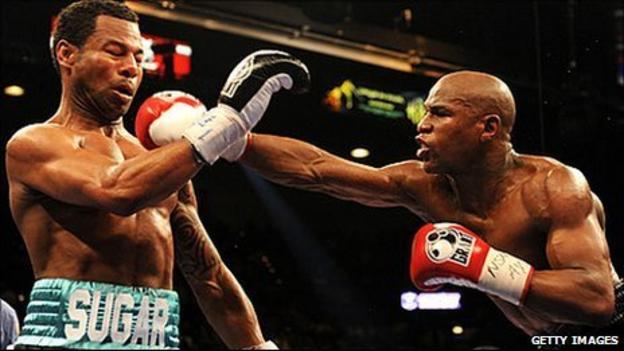 Floyd Mayweather has announced he will end his latest spell in retirement by challenging Victor Ortiz for the WBC welterweight title on 17 September.
Mayweather has not fought since outpointing Shane Mosley in May 2010.
"My fans have been waiting long enough," said the 34-year-old American.
The return of unbeaten Mayweather, a five-time world champion, will raise hopes of an ultimate showdown with Philippine superstar Manny Pacquiao.
But first he must negotiate his way past Ortiz.
"At this stage of my career, these are the challenges I look for, a young, strong, rising star looking to make his mark in boxing by beating me," added Mayweather.
"Trust me, I will be ready."
American Ortiz, 24, won his title from defending champion Andre Berto in Connecticut in April. He was knocked down twice en route to winning a unanimous decision.
"I respect Mayweather because he has been a champion for many years and I know he will be ready but so will I," said Ortiz, who has lost twice in 33 fights.
"I'm a world champion for a reason and I am not going to let go of my title any time soon. This is going to be a great fight, but I will remain a world champion for many years to come."
Mayweather's time away from the ring has not been without incident.
Unbeaten in 41 fights, Mayweather faces felony charges in a domestic argument with his ex-girlfriend and two of their children last year.
He also faces misdemeanour harassment charges accusing him of threatening two homeowner association security guards outside his Las Vegas home.
The charges stem from an October dispute over parking with guards in the gated community where Mayweather lives.
Mayweather also faces a September trial on a misdemeanour battery charge stemming from allegations he poked a 21-year-old guard in the face during a separate argument over parking tickets in November.
The venue for the September fight has yet to be determined.