BBC man on Froch-watch
By Robin Chipperfield
BBC Radio Nottingham in the United States
Last updated on .From the section Boxing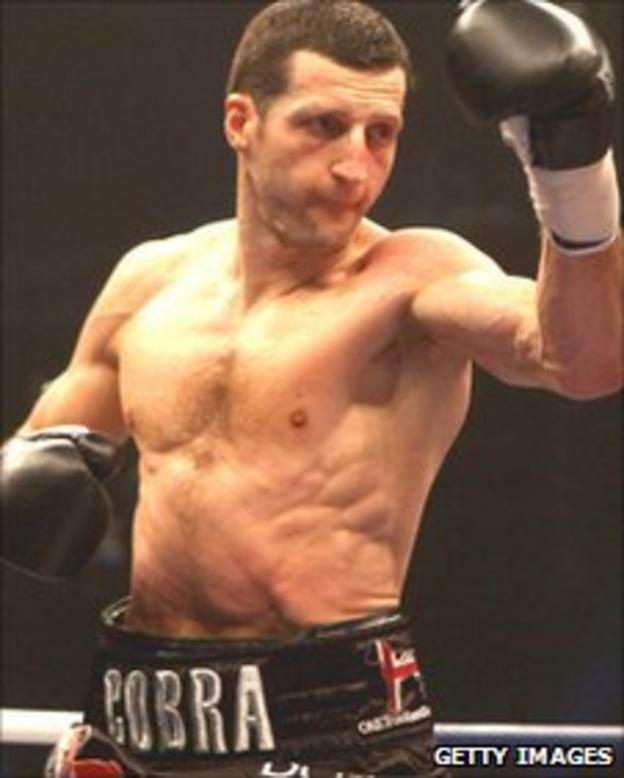 For someone who had just spent a few hours in an Atlantic City hospital two days before a world title defence, Carl Froch was incredibly relaxed on Thursday as he spoke about his upcoming fight with Glen Johnson.
We met near one of the gyms in the hotel, and walked up to the rooftop terrace with views over the famous Boardwalk and out to the Atlantic Ocean.
As scantily-clad sun-worshippers sipped cocktails, they wouldn't have known that a world boxing champion was in their midst because Froch is such a quiet and unassuming figure around the hotel.
He did not appear to have a care in the world as we spoke about his little visit to the hospital. There was no stress about him at all as, dressed in trendy T-shirt and jeans, he talked openly about his ear wax and syringing!
As someone who is a little uneasy around any discussion on medical matters, it seemed more stressful and testing for me than it did to him.
Earlier, I had bumped into Froch's trainer Rob McCracken on the Boardwalk and it is fair to say Froch had not got much sympathy from him.
"Drama Queen" - laced in a Birmingham accent - was all McCracken had to say on the subject, followed by a huge smile.
On the way back to the hotel, the sight of a jogging Johnson raised a few eyebrows - he had clearly been pounding the Boardwalk for a while, as sweat poured off him in the 85-degree heat.
I hope this was not a suggestion that he is struggling to make the weight - he certainly had not given that impression at the New York press conference on Wednesday.
The one thing that did seem to ruffle the Froch feathers in the interview was when we got onto the subject of fighting back in Nottingham.
He has certainly travelled the world winning and losing world titles - he has stamps from Denmark and Finland in his passport, along with two American stamps after fights in Mashantucket, Connecticut and Atlantic City, New Jersey.
It is therefore understandable that Froch would want to fight closer to home after the Super Six final - likely to be in Las Vegas in November - assuming he beats Johnson.
While there is much glamour in travelling the globe, you always get the impression that Froch is most comfortable when at home in Nottingham and he will hope to take the belt back with him to the East Midlands, when he leaves Atlantic City on Sunday night.