James DeGale deserves rematch with Groves - Warren
By Ben Dirs at the 02 Arena
BBC Sport
Last updated on .From the section Boxing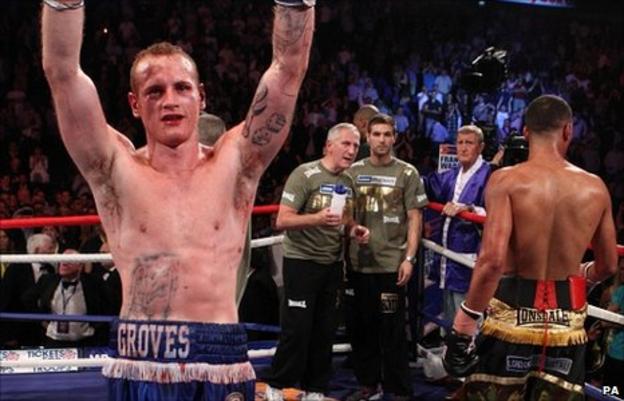 Promoter Frank Warren said he would push for a rematch after James DeGale's defeat by George Groves.
DeGale lost his first fight as a professional and his British super-middleweight belt when he was outpointed by old amateur rival Groves.
"The general consensus seems to be that James won the fight, so they should order a rematch," said Warren.
"I don't think George's team will be interested, but there's no-one else for him. It should happen straight away."
Commonwealth champion Groves, 23, was a heavy underdog going into the fight but surprised many, including former Olympic champion DeGale, with his wily tactics and won a majority decision.
However, Warren called Groves' victory "hollow", adding: "One way or another that fight will happen again. If it doesn't happen, George Groves should be ashamed of himself.
"I haven't found one person who thought George won that fight and I'm sure he's got a lot of pride and he wouldn't want it to be like that. I'm sure he wants his victory to be an emphatic one."
Warren said he would contact the British Boxing Board of Control in his efforts to secure a rematch.
"The Board ordered this fight in the first place, let them order a rematch," he said. "We'll lobby them and write to them and ask them to do it."
But Groves, whose rivalry with DeGale goes back to their time together at Dale Youth amateur boxing club, stated categorically that he would not be fighting the 25-year-old next.
"How many times do I have to beat this man? After this fight I'll go on to bigger and better things.
"He has no titles, he's just come off a loss, I'm pretty sure I can find a better opponent than James DeGale.
"I've always said, once I've finished with James DeGale I've cleared up the domestic scene and I'm looking at bigger and better things.
"Possibly I can see it happening a few years down the line, when we've both got different versions of the world title. He's got a good promoter, I'm sure he can get there, he'll just have to take a different route from me. I'm taking a more direct one."
Groves' manager and trainer Adam Booth did not rule out relinquishing the British title in order to avoid an immediate rematch with DeGale.
"Frank and the Board can do what they want but we'll do what's best for George, whatever that is," said Booth, who also trains world heavyweight champion David Haye.
"Make no assumptions about George's career just because of what other people say.
"George's career is not based on James DeGale and is not based on being the British champion. He wants to be a world champion, and we'll get him there the way we believe is the right way."
Unsurprisingly DeGale said he would welcome a rematch and accused Groves of "nicking" his title.
"How can a challenger nick a fight on the back foot like that?" said DeGale, for whom the defeat was his first in 11 paid fights.
"I thought I hit him with the cleaner shots, I hurt him in the ninth round, and the last four rounds I won easy.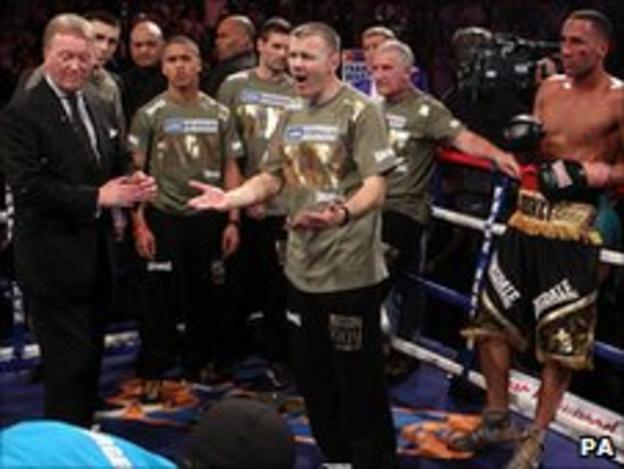 "He can't be proud of that win. He beat me, but he nicked it. I want a rematch as soon as, but we'll have to see what Frank and the Board do."
While Warren thought DeGale had won the fight, he admitted his charge could have few complaints and said he had handed it to his opponent.
Warren said: "I thought James won the fight by one or two rounds. But although James was walking him down he wasn't throwing enough shots.
"That was his fight to win but he gave it to Groves. He never looked in any distress, he took all the best shots that George had to throw and there were times when George looked quite frail. But George did what he had to do and he caught two of the judges' eyes.
"What James needed to do in that fight was to be more emphatic, if he'd stepped his work-rate up a bit he would have got the decision and may even have stopped him.
"He gave that fight to him. There were rounds there where there wasn't a lot of action and judges can go either way in that situation."