Charlie Edwards moved into GB boxing's podium squad
Last updated on .From the section Boxing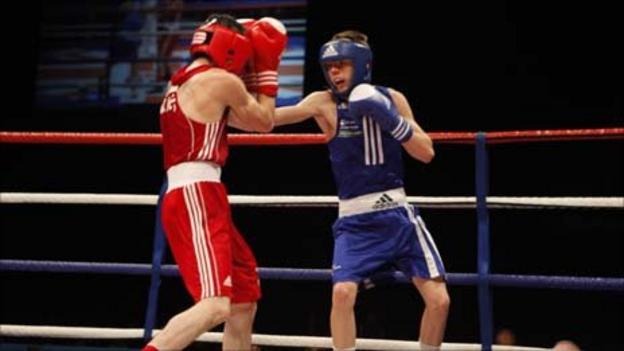 Light-flyweight Charlie Edwards has been rewarded for his fine performance at last Friday's ABA finals by being added to GB boxing's podium squad.
Edwards, 18, was already in GB boxing's development squad but his 39-13 victory over Mohammed Wagas in Colchester has seen the Beddington boxer promoted.
"Charlie has established himself as the best light-flyweight and has now earned his place on the podium squad," said performance director Rob McCracken.
The news keeps his Olympic dream alive.
Edwards will now be invited to represent GB at international tournaments and could also make the team for the World Championships in September, which double up as a 2012 Olympic qualifying event.
"His challenge now is to make the move up to international class," added McCracken.
Edwards' coach Gary Hale told BBC Sport after Edwards' victory in Colchester: "He's now proved he is the best boxer at the weight and he continues to do everything we ask of him.
"He is extremely dedicated and is improving all the time. Moving into the podium squad is the next logical step."
The 18-year-old will now train full time at the English Institute of Sport in Sheffield.
Men's Podium Squad
Charlie Edwards, Light-flyweight, (49kg), Croydon, England
Khalid Yafai, Flyweight (52Kg), Birmingham, England
Andrew Selby, Flyweight (52Kg), Barry, Wales
Tommy Stubbs, Flyweight (52Kg), Oldham, England
Gamal Yafai, Bantamweight (56Kg), Birmingham, England
Luke Campbell, Bantamweight (56Kg), Hull, England
Iain Weaver, Bantamweight (56Kg), Ferndown, England
Martin Ward, Lightweight (60Kg), Romford, England
Thomas Stalker, Lightweight (60Kg), Liverpool, England
Bradley Saunders, Light-welterweight (64Kg), Sedgefield, England
Scott Cardle, Light-welterweight (64Kg), Lytham, England
Callum Smith, Welterweight (69Kg), Liverpool, England
Fred Evans, Welterweight (69Kg), Cardiff, Wales
Anthony Ogogo, Middleweight (75Kg), Lowestoft, England
Obed Mbwakango, Light-heavyweight (81 Kg), London, England
Warren Baister, Heavyweight (91Kg), Sunderland, England
Danny Price, Heavyweight (91Kg), Scarborough, England
Simon Vallily, Heavyweight (91Kg), Middlesbrough, England