ABA win keeps Charlie Edwards' 2012 Olympic dream alive
By Nabil Hassan
BBC Sport at the ABA finals in Colchester
Last updated on .From the section Boxing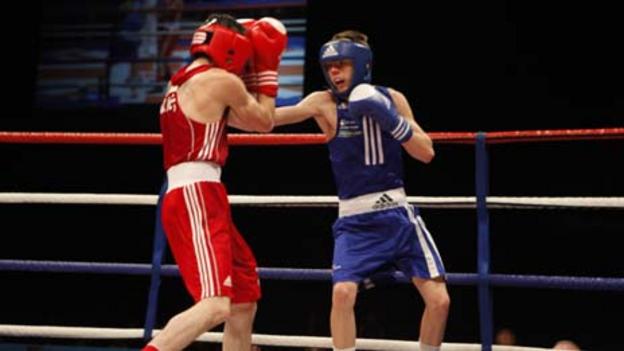 Charlie Edwards underlined his status as a potential London Olympian with a comprehensive victory at the ABA finals in Colchester on Friday.
Light-flyweight Edwards defeated Mohammed Wagas 39-13 with an accomplished performance that will increase his chances of moving from Great Britain's development squad into the podium team.
"I'm happy with how I boxed and am proud to have won," 18-year-old Edwards told BBC Sport.
Edwards' GB development team-mate Anthony Joshua was also victorious, while there was a win for former podium squad member Danny Phillips.
Away from that trio there were also notable performances and some excellent fights in an action-packed evening of amateur boxing in Colchester's Charter Hall sports complex.
The fight of the night was James Metcalf's thrilling 32-30 victory over Thomas Baker in the 71 kg final.
Both boxers slugged it out for three brutal rounds with Baker given two standing eight counts and was later twice controversially deducted points in a fight that could have gone either way.
The bantamweight final between Adam Whitfield and Alimaan Hussein was also a cracking fight with all-action Hussein coming out on top with a 33-24 win.
The performance of the night arguably belonged to Deion Jumah in the 86kg final with the Dale Youth ABC fighter outclassing his opponent Jamie Hughes 31-15 to earn a success as he continues to impress.
John Dignum's 31-26 victory over James Seddon in the middleweight final also produced a memorable fight.
Elsewhere, flyweight Jason Cunningham defeated Charlie Hoy while there were victories for Mitchell Smith, Sam Maxwell, Damon Jones, Ben Llyemi and Sam Pomphey.
But fittingly the night began with Edwards who, after a nervy start, soon started to find his range with the right-hand uppercut proving to be his most successful punch against a lively opponent.
Edwards said he hoped to make a statement with his performance and to produce a victory that would send a message out to GB performance director Rob McCracken.
And with his mature victory, in his first senior ABA final, the talented Beddington boxer will now be on the verge of moving into GB's podium squad.
That will bring its own benefits with Edwards then able to train full time at the English Institute of Sport in Sheffield and the Lynn ABC fighter could even earn a surprise call-up into the GB squad for the forthcoming European Championships.
However, the World Championships in Azerbaijan in September, which double up as an Olympic qualifying event, would be a more realistic target as he moves a step closer to realising his dream of fighting at London 2012.
"Charlie was looking for a good performance and you could tell he was a little too eager to impress, but the quality shone through in the end," said Edwards' coach Gary Hale.
"He's now proved he is the best boxer at the weight and he continues to do everything we ask of him.
"He is extremely dedicated and is improving all the time. Moving into the podium squad would be the next logical step."
Edwards added: "There are better performances in me than tonight, but I've still done myself proud."
Super-heavyweight Joshua is another boxer who could join Edwards in moving into the podium squad with the Finchley ABC fighter also making a charge for next year's Olympics.
Joshua overcame awkward opponent Fayz Abbas 24-15 with a rusty-looking performance but is clearly a strong prospect if only for his physique.
"There's a lot more to come," admitted Joshua after his victory.
"I cannot blame my opponent for how I boxed, and that was not the real Anthony Joshua in there.
"This wasn't my best performance, you cannot judge me on that, but I'm hoping it's enough to have got me into the podium squad.
"I'm learning so much every time I fight. If I can go full-time then I will become great. The World Championships is the big one this year and I just hope they have me written down as number one on their notepad.
"I'm taking it one step at a time, I got this fight out the way, and now I'll turn my attention to the next thing. I'll be back in the gym on Monday.
"There is so much more to come though. Boxing is my future."
Light-welterweight Phillips also marked his return to the sport after a turbulent 12 months with a 26-17 victory over Louis Adolphe.
This time last year Middlesbrough's Phillips had lost his place in the GB squad because of "disciplinary issues" but he showed he is getting himself back together by winning the ABA title.
Once considered one of the most talented amateur boxers in the country, Phillips could now be re-invited back into the development squad and make a late charge for Olympic selection.
Full results:
48kg Charlie Edwards(Lynn) v Mohammed Waqas (South Bank) 39:13
51kg Charlie Hoy (Repton) v Jason Cunningham (St Paul's) 26:13
54kg Adam Whitfield (Army) v Alimaan Hussain (Aston) 33:24
57kg Mitchell Smith (Welwyn Garden City) v Chris Blinkhorn (Castle Hill) 30:16
60kg Brett Beadon (Repton) v Sam Maxwell (Salisbury) 20:9
63.5kg Louis Adolphe (Earlsfield) v Danny Phillips (South Bank) 26:17
67kg Steve Turner (Army) v Damon Jones (West Leeds) 31:13
71kg Thomas Baker (West Ham) v James Metcalf (Salisbury) 32:30
75kg John Dignum (Brentwood Youth) v James Seddon (Transport) 31:26
81kg Sam Pomphrey (Broadplain) v Michael Watson (South Durham) 18:8
86kg Deion Jumah (Dale Youth) v Jamie Hughes (Highfields) 31:15
91kg Ben Ilyemi (Finchley) v Chris Healey (Bredbury & Stockport) 31:24
91kg+ Anthony Joshua (Finchley) v Fayz Abbas (Northside) 24:15