British boxing legend Sir Henry Cooper dies aged 76
Last updated on .From the section Boxing
Heavyweight boxing legend Sir Henry Cooper has died at the age of 76 at his son's house in Oxted, Surrey.
The former British, Commonwealth and European champion fought 55 times and is revered for his 1963 knockdown of Muhammad Ali - then Cassius Clay.
In a statement, Ali said he would miss his "old friend", calling him "a great fighter and a gentleman".
London-born Cooper, who won the BBC Sports Personality of the Year award twice, was knighted in 2000.
Alongside Frank Bruno, Tommy Farr and Lennox Lewis, Cooper is considered one of the great British heavyweights.
After an amateur career that included an appearance as an 18-year-old in the 1952 Helsinki Olympics, Henry and his twin brother George, who died last year, both turned professional at 20 in 1954.
He went on to enjoy a hugely successful professional career, but never won a world title and retired, aged 36, in 1971 after losing to Joe Bugner, a year after becoming the first person to be named BBC Sports Personality of the Year on two occasions (1967 and 1970).
Cooper, who is the only British boxer to have won three Lonsdale belts outright, is best remembered for his two famous clashes with Ali in the 1960s.
He floored the American in the fourth round with 'Enery's 'Ammer - his trademark left hook - but Ali eventually won the 1963 non-title fight at Wembley.
Ali later said on British television that Cooper "hit me so hard that my ancestors in Africa felt it".
Responding to the news of Cooper's death, Muhammad Ali said he was "at a loss for words" over the death of his friend.
"Henry always had a smile for me; a warm and embracing smile", he said. "It was always a pleasure being in Henry's company. I will miss my old friend. He was a great fighter and a gentleman."
Ali triumphed again when they boxed three years later but Cooper remained a favourite with the British public.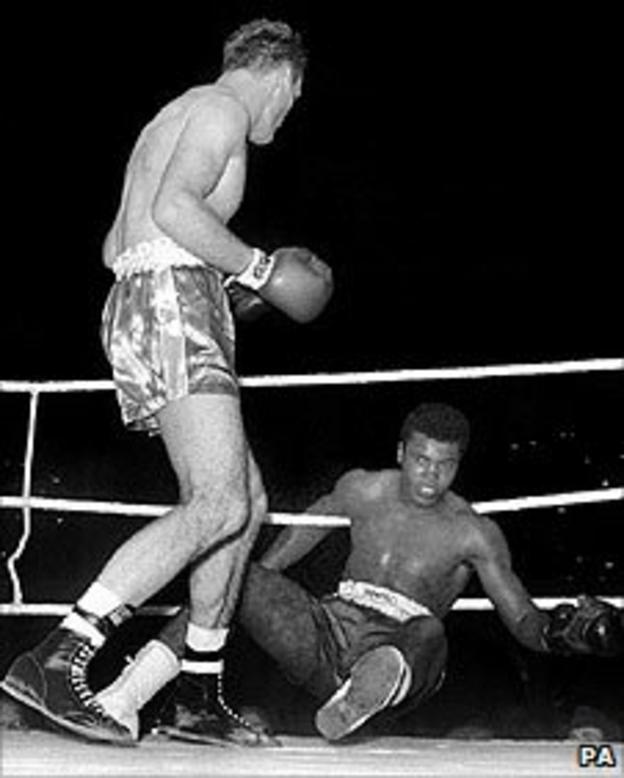 Following his retirement he pursued a successful career in television as a pundit and was also a published author. He was a popular captain on the BBC quiz show A Question of Sport.
Britain's world heavyweight champion David Haye used his Twitter feed to pay tribute to Cooper, who would have celebrated his 77th birthday on Tuesday.
"One of Britain's greatest sports man Sir Henry Cooper passed away today. A true warrior and great human being. Rest in Peace," Haye wrote.
Ireland's former world featherweight champion Barry McGuigan told the BBC: "He was a lovely fella, and I was a personal friend of him and his wife.
"It really is tragic news for the world of boxing. What a great man he was."