David Haye and Wladimir Klitschko set for 2 July fight
Last updated on .From the section Boxing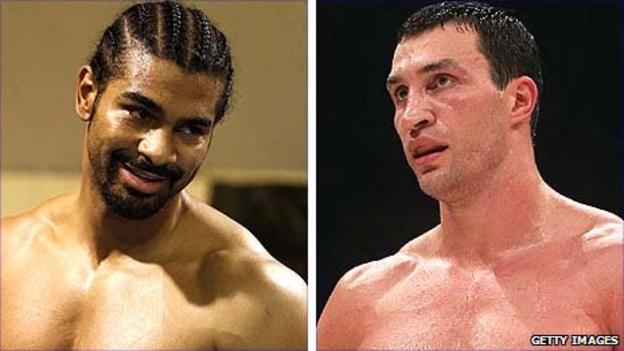 David Haye's world heavyweight title fight with Wladimir Klitschko will take place on 2 July in Hamburg.
After protracted negotiations, WBA champion Haye and IBF and WBO holder Klitschko agreed to fight last month with the venue and date undecided.
But both camps have confirmed the 57,000-capacity Imtech Arena would stage the unification contest.
"I'd fight him anywhere, so long as the location comes with a ring and a ref that can count to 10," said Haye.
"By the time I've finished with Wladimir, he won't know where he is anyway."
Klitschko's manager Bernd Boente said: "We had different options and held negotiations in other countries. Switzerland was in play, Ukraine and different options in Germany.
"But it was always the case that Adam Booth [Haye's manager] and myself discussed all these things, such as the different business options on the table, as partners, and then made the decision together yesterday [Tuesday] that we'd go to Hamburg."
Haye added: "Hamburg is an accessible city for a lot of British fans, so I'm expecting a huge turnout for what is undoubtedly the biggest boxing event of the year.
"I think every city in mainland Europe and beyond wanted to stage this fight, and that shows just what an appealing event it is.
"I've said from day one that I am Wladimir's toughest opponent to date, and I stand by that.
"Wladimir has a history of being knocked out by fast punchers, and I punch faster than every other heavyweight in the world. I'm also dedicated, disciplined and ambitious, unlike many of Klitschko's previous opponents.
"I've got no doubt Wladimir will freeze like an iceberg when I hit him on the chin in Hamburg. He won't know how to react, will panic, attempt to run for cover and then realise big brother Vitali is in the corner mopping up tears with a white towel."
Haye was due to fight Wladimir, 35, in 2009 but was forced to pull out because of a back injury and negotiations had repeatedly stalled since. But the duo finally struck an agreement on 5 March.
The Ukrainian has been undergoing rehabilitation from an abdominal injury suffered in December - an injury which scuppered a planned fight with Haye's fellow Brit Dereck Chisora - but Boente insisted the slightly later date was unconnected.
"The date had nothing to do with Wladimir's stomach injury," he said. "The arena could not do the week before.
"We had only two dates from [broadcasters] Sky and RTL, the key players here, and it was either 25 June or 2 July.
"So it was always dependent on the stadium. In Hamburg, only 2 July was possible because of various concerts."
Haye, 30, who has been training for the fight in Miami, hopes to follow up the fight against Wladimir with a bout against his older brother, WBC title-holder Vitali Klitschko.
However, the Londoner said he would not delay his planned retirement - on his 31st birthday in October - to realise his dream of fighting both brothers.
Haye, who has 25 wins from 26 professional fights, secured his WBA belt in November 2009, when he outpointed giant Russian Nikolay Valuev in Nuremberg.
The Londoner successfully defended the belt twice in 2010, defeating former world champion John Ruiz and fellow Brit Audley Harrison within the scheduled distance.
Klitschko, meanwhile, first won the WBO version of the title in October 2000 and has enjoyed two stints as champion of that particular organisation.
Klitschko, 55-3 with 49 knockouts, won the IBF belt in 2006 and most recently knocked out Nigerian Samuel Peter last September.
Haye's fellow British fighter James DeGale - the reigning Olympic middleweight champion - said news of the fight was "great for British boxing", but that Haye would not find it easy in Germany.
"In Hamburg, against one of the Klitschko's, it's a difficult task for Haye," he said.
"Yes [I'm surprised by the venue]. It's took nearly a year for them to get it on, but obviously they've come to an agreement - and David's drawn the short straw.
"It won't bother him. He'll train hard and, hopefully, fight easy. But it's a tough task.
"I'd like David Haye to go on and unify the division. [But] I see Wladimir knocking him out late on. He's too athletic, too big, and hits far too hard.
"But you never know, it's heavyweight boxing, and all it takes is one punch. And David Haye can do that."
DeGale will defend his British super-middleweight title against unbeaten Commonwealth champion George Groves - who won in their only meeting as amateurs - at London's O2 Arena on 21 May.
Listen to the Steve Bunce Boxing Show, via podcast, right here