Top bowlers bare all to raise cancer funds for ill team-mate
By Brent Pilnick
BBC Sport
Last updated on .From the section Bowls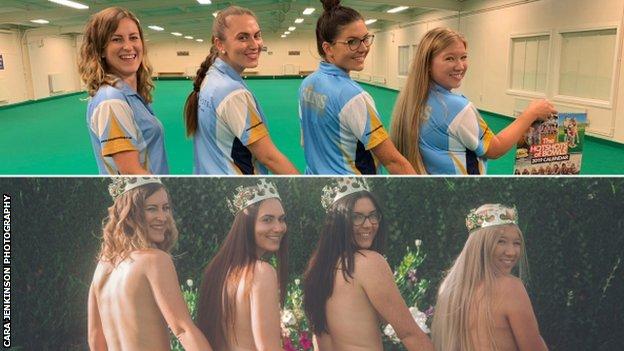 "There were a couple of people around the bowls club that got maybe more than they bargained for on a Sunday morning!"
Seeing four of England's best bowlers lying naked on the green of a club in Devon is not what most people would expect from a sport with a reputation for being tranquil and for those of a certain age.
But former world champions and Commonwealth gold medallists, plus national selectors and club players, have come together to lend the sport's support to one of their own in the form of a naked calendar.
Earlier this year, England junior international Hannah Overton was diagnosed with leukaemia at the age of 29. She is due to have a bone marrow transplant in December.
Commonwealth Games gold medallists Natalie Chestney and Sian Honnor, along with national champion Lorraine Kuhler, came up with the idea of baring all to raise some money.
"All of us have been touched by cancer in one way or another," Chestney, who won Commonwealth women's singles gold in 2010 and silver in 2014, told BBC Sport.
"It's been a bit of a whirlwind. We've seen way more of each other and our team-mates than we'd ever dreamed of, quite frankly.
"But it's been incredible. The support from the bowls community has been amazing."
'I feel humbled'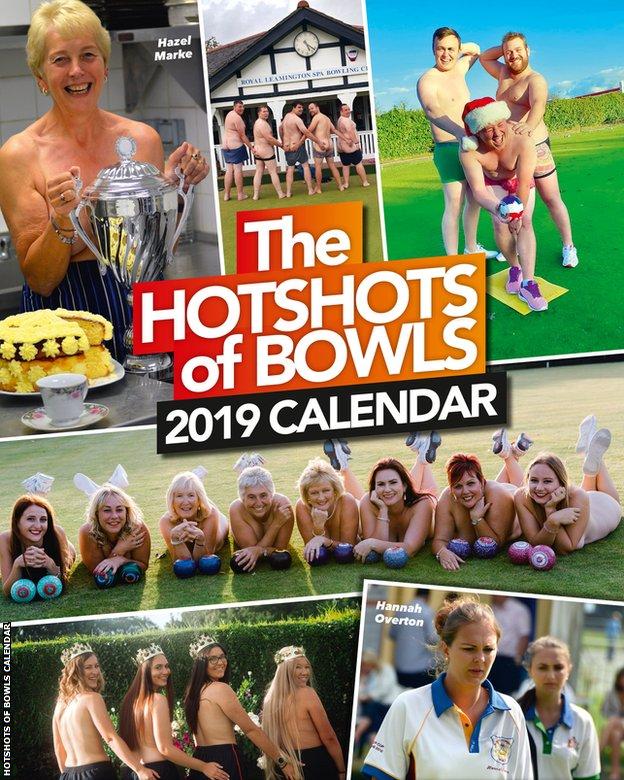 Each month of the calendar features a different set of players. They have already smashed their initial target of raising £2,000 - and now hope to get somewhere nearer to £20,000.
Unsurprisingly, it has left its mark on Huntingdonshire-based bowler Overton as she tries to overcome her cancer.
"I still don't really have the words to say to describe how one word literally stops your life in its tracks," said the two-time national finalist.
"I feel humbled how so many people have come together to show their support and that the target has already been smashed."
It is something that world bronze medallist and 2014 Commonwealth Games triples champion Sophie Tolchard thinks shows the best side of her sport.
"It says a lot for the bowls community. Something like this has made us all come together," she said.
"I don't know any other sport where this has been done to this level before."
England international Harriet Stevens added: "This brings so much fun and positive light to the sport.
"I think it'll raise fantastic awareness, not only for the charities we're supporting, but also the sport itself, which is fantastic."