Scottish International Open: David Gourlay beats Michael Stepney to win title
Last updated on .From the section Bowls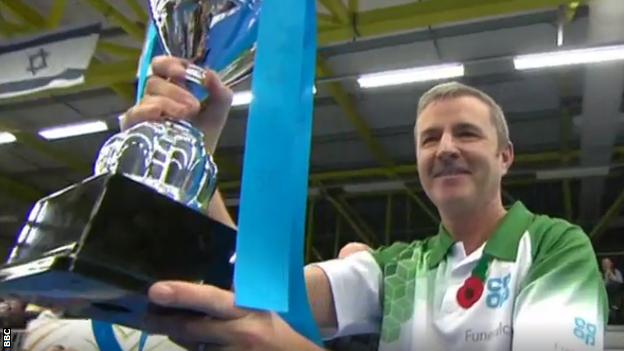 Dominant David Gourlay ended Michael Stepney's hopes of a fairytale debut Scottish International Open appearance to take the title he last won in 2002.
Fifth seed Gourlay beat fellow Scot Stepney, who was given a wildcard entry, 9-4 11-7 in the final in Perth.
Gourlay told BBC Scotland: "I knew I had to play well to beat Michael. He was unlucky in the first set and it could have gone either way.
"It was probably one of the best games I've played on the World Bowls Tour."
Stepney had knocked out two former world champions - Stewart Anderson and Mervyn King - then current world champion Paul Foster to reach Saturday's final.
Those wins will take the 36-year-old from Elgin into the world's top 16 for the first time.
But he came up against Gourlay in the kind of form that won him the world title in 1996.
"Obviously I've got a few grey hairs since 11 years ago," the 56-year-old from Prestwick said of his wait for another Scottish International Open title.
"Whoever beats Paul Foster is going to be hard to beat and thankfully my first bowl put Michael under pressure a lot of the time.
"It is really special to win it here in Perth in front of a Scottish crowd."
Gourlay, whose progress to the final will lift him to number two in the world, is also Scotland's national coach.
"There is a danger, if you put too much focus on the coaching, you can lose your own game," he said.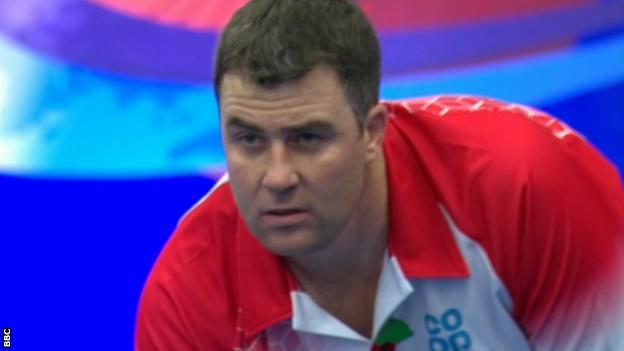 "But I've been playing more in the last four months back in Scotland than I have in the last 10 years and it's obviously paying dividends, so I just look forward now to the World Championships."
Gourlay took a single in the opening end, but Stepney steadied himself to take shots at the next three to lead 4-1.
However, the veteran took control thereafter, reeling off nine ends in a row to take the first set and move into a 4-0 lead in the second.
Stepney narrowed the gap to 4-3 before Gourlay again established dominance, rounding it off with a superb draw to score two and clinch the title.
Goulay, though, paid tribute to the performance by the runner-up.
"What a week Michael's had - broke through to the top 16, but this is no surprise to any of us," he said.
"Michael fully deserves to be in the top 16."
Stepney revealed that his progress to the final meant he missed a Saturday match for his home club.
"By good fortune, I'm the manager, so I might be back in next week," he added.
"David was outstanding today from the very first bowl to the very last.
"In most ends, he was just deadly and put me under pressure."