Bowls Scottish Open: Michael Stepney & David Gourlay into final
Last updated on .From the section Bowls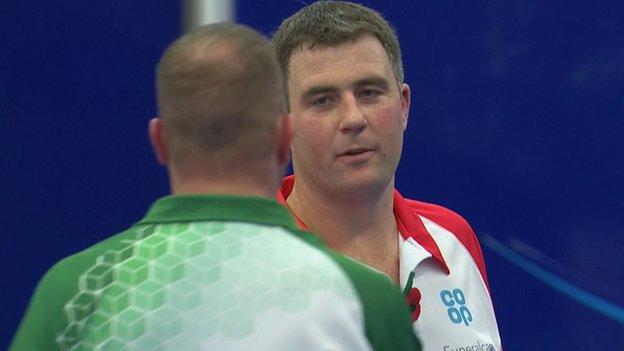 Michael Stepney and David Gourlay will meet in the final of the Scottish Open after beating Paul Foster and Darren Burnett respectively in the semis.
Former world champion Gourlay saw off Burnett 2-0 (8-6, 7-6) to reach his first Scottish Open final in 11 years.
Wildcard entry Stepney earlier upset current world champion Foster 2-0 (9-4, 8-6) to progress to Saturday's final.
Despite winning more ends, Foster was knocked out as Stepney twice secured a three-point end.
"To be fair I've seen Paul (Foster) play a lot better than that," said Stepney.
"I just had to keep on going, keep my game going, but that wasn't the real Paul Foster out there today."
World number four Foster said: "Some days you go you there and it's just not for you.
"I'm not going to stand here and criticise myself. Michael played brilliantly and deserved to win.
"Mike's a class player. I didn't underestimate him at all. Mike can beat anybody on his day."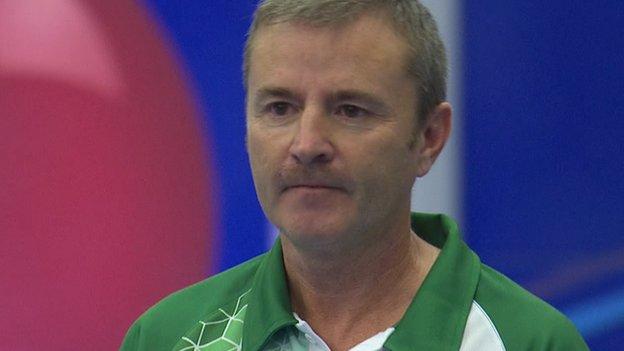 World number five Gourlay saw off 2014 world champion Burnett with a 9-4 8-6 victory.
"I am really delighted to be in the final. It has been a long time coming," said the Glaswegian.
"I knew I had to play better and get my first bowl closer to put Darren under a bit of pressure. Thankfully that happened."
Gourlay predicts his final opponent Stepney "will play incredibly well again in the final."
The 51-year-old added: "I played him last year at Blackpool and I was a bit fortunate to win that game - he outplayed me.
"I didn't think anyone would beat Paul (Foster) the way he has been playing."
Semi-final results:
Michael Stepney 2-0 Paul Foster (8-6, 7-6)
Darren Burnett 0-2 David Gourlay (4-9, 6-8)
You can watch Saturday's final between Stepney and Gourlay on BBC Two Scotland and on the BBC Sport Scotland website from 1400 GMT.