World Indoor Bowls Championship 2017: Rednall beats Falkner to win second title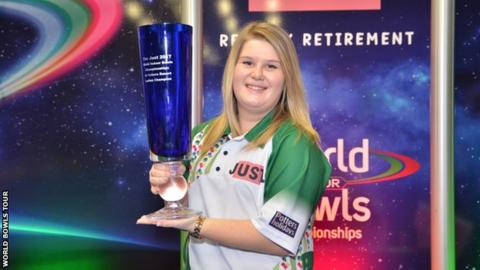 Katherine Rednall beat defending champion Ellen Falkner to win her second World Indoor Bowls Championship women's singles title at Hopton-on-Sea.
The 21-year-old from Ipswich, who became the youngest ever winner in 2014, eased to the first set 10-5.
Cambridge's Falkner, 37, responded by taking a 5-2 lead in the second set.
But Rednall came back to claim the set 10-6 and deny Falkner what would have been a record fourth title.
"Coming back here each year is an absolute pleasure," Rednall told BBC Sport.
"It was an incredible game and it was what you hope for from a final."