Jason Greenslade knocked out of Welsh Grand Prix by Hogg
Last updated on .From the section Bowls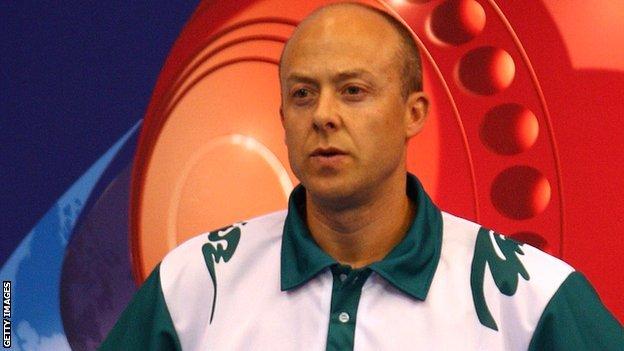 Welshman Jason Greenslade has been knocked out of the Co-operative Funeralcare Welsh Grand Prix.
Scotland's Wayne Hogg beat Greenslade 9-1, 10-4 in Llanelli, while his compatriot Robert Weale is out of the after losing to qualifier Calvin Leuty on his debut at this level.
The 22-year-old Englishman recovered from a set down to topple Wales' top ranked player 6-8, 10-5, 2-1.
But Leuty wend out to England's Mervyn King in the second round.
King, the world number five from Norfolk, is the first player through to Thursday's quarter-finals after beating Leuty 6-5, 14-5.
John Price, seeded 16, shared the opening set 6-6, with England qualifier Chris Young, but powered home in the second 11-3.
The win ended a sequence of four successive first round defeats in his 'home' championship for Price, who faces Scotland's Darren Burnett on Tuesday in the second round.
Also in action on Tuesday is Welsh National champion Damien Doubler, who won the amateur title on Monday, faces former World Champion Greg Harlow.
After winning a third world indoor singles title England's Andy Thomson was made to work hard for his opening round win over international colleague Brett Arkley.
Thomson lost the first set 6-5, but found his form in the second with an 11-2 win and then sealed a last 16 clash with Scotland's Alex Marshall by taking the opening two ends in the tie-break.
Scotland's Darren Burnett, the 2010 champion, had a scare before getting past regular American qualifier Neil Furman on a tie-break.
This Welsh ranking tournament has never been the happiest of hunting grounds for record five-time world champion Alex Marshall, who has yet to get beyond the quarter-finals.
But the Scot certainly looked at home in his opening match against Australian qualifier Brett Wilkie, winning 11-3, 11-7.
England's Billy Jackson, battling to retain his place in the world's top 16, beat Ian Bond 9-4, 10-10.
Canada's Peter Ls Wong caused a major surprise by defeating young Welsh star Stewart Anderson.
The Canadian qualifier toppled the 2010 world indoor singles finalist and 12th seed, 8-7, 2-11, 2-0.
RESULTS
FIRST ROUND
Simon Skelton (England) bt Jim Byron (Scotland) 6-9, 11-1, 2-1.
Nicky Brett (England) bt Ben Twist (Australia) 10-6, 12-1.
David Gourlay (Scotland) bt Simon Martin (Ireland) 10-5, 10-2
Mervyn King (England) bt Robert Paxton (England) 15-5, 8-7.
John Price (Wales) bt Chris Young (England) 6-6, 11-3.
Peter Ls Wong (Canada) bt Stewart Anderson (Wales) 8-7, 2-11, 2-0.
Jonathan Ross (Scotland) bt ZvikaHadar (Israel) 11-2, 13-4
Darren Burnett (Scotland) bt Neil Furman (USA) 9-3, 3-8, 2-0.
Calvin Leuty (England) bt Robert Weale (Wales) 6-8, 10-5, 2-1.
Alex Marshall (Scotland) bt Brett Wilkie (Australia) 11-3, 11-7.
Andy Thomson (England) bt Brett Arkley (England) 5-6, 11-2, 2-0.
Billy Jackson (England) bt Ian Bond (England) 9-4, 10-10.
Paul Foster (Scotland) bt Tammy Tham (Hong Kong) 10-1, 8-4.
Wayne Hogg (Scotland) bt Jason Greenslade (Wales) 9-1, 10-4.
Mark Royal (England) bt Greg Bingham (South Africa) 10-3, 7-6.
SECOND ROUND
Mervyn King (England) bt Calvin Leuty (England) 6-5, 14-5.