BBC Sport - #DontHitSnooze: Lunch pitta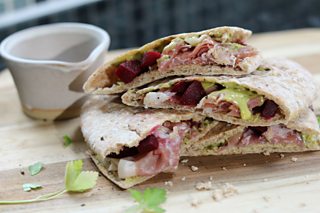 #DontHitSnooze: Lunch pitta
Ever worked out how much money you spend on lunches each day? If you're taking part in BodyPositive's #DontHitSnooze week, then why not spend your extra time making something?
Save yourself a packet with these surprisingly filling tasty three-step pittas that can be made in nine minutes. Gluten intolerant? Worry not - just replace the pitta with lettuce. Veggie? Replace the ham with grilled halloumi. Watch the video and get cracking in the kitchen!
Lunch wrap
Serves 1
Approx cost : £3.01 (for a serving of 2 pitas)
Ingredients
Instructions
Wrap and store in a fridge or lunchbox until ready to eat! All our nine minute recipes have been created by Jenny Tschiesche who is one of the UK's leading nutrition experts and founder of www.lunchboxdoctor.com. She delivers nutritional advice to Great Britain's best up-and-coming athletes and their parents through her work with SportsAid - the charity providing financial help and recognition to the country's young sports stars.