EuroBasket: Watch Great Britain in historic semi-final from 16:45 BST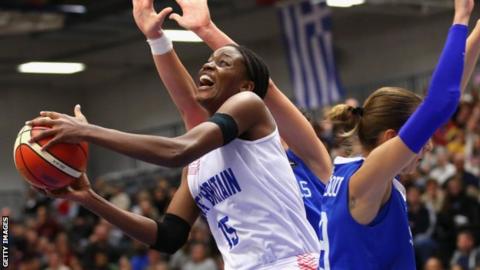 EuroBasket Women semi-final: France v Great Britain
Saturday 6 July: Live on BBC Sport website and app, connected TV 16:45-19:00. Great Britain's game on Sunday (final or bronze medal match) will also be shown
Great Britain women's historic EuroBasket semi-final against France on Saturday will be streamed on the BBC Sport website and app from 16:45 BST.
Head coach Chema Buceta's side are the first British team, male or female, to reach this stage of the competition.
By doing so they have already secured their placed in February's qualifying tournament for the Tokyo 2020 Olympics.
"This is the first time at this stage for Britain but it's important that it's not the last," said Buceta.
"Now it's important that we help basketball in Great Britain to grow as much as possible."
GB are ranked 25th in the world, while France are fourth. Tip off is 17:00 BST. Serbia meet Spain at 19:30 BST in the other semi-final in Belgrade. The final is due to take place at 19:15 BST on Sunday.
No GB basketball team has ever qualified for an Olympics in its own right, previously having appeared when taking a host-nation berth.
The semi-final will be streamed in this page.
"Chema told us not to be just happy to be here [at EuroBasket] because we have goals and Tokyo was definitely one of them," said GB forward Johannah Leedham-Warner.
"We know those goals are within our reach because we've brought them within our reach."
France, who were European champions in 2009 and have won a medal at the last four EuroBasket, needed overtime to beat Belgium in their quarter-final tie.
GB have one of the stars of the tournament in Temi Fagbenle, who has scored 20 points or more in each of her last four games.