Russell Westbrook: NBA issue lifetime ban to fan after abuse claims
Last updated on .From the section Basketball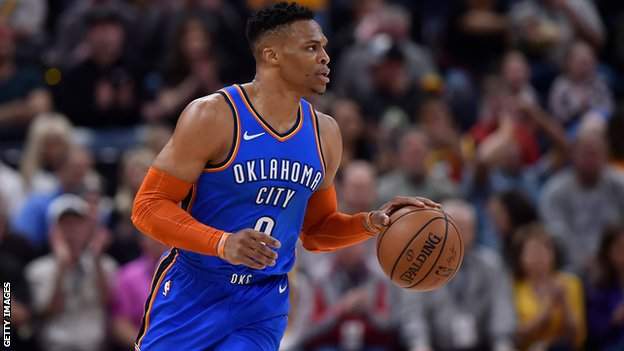 Oklahoma City Thunder's Russell Westbrook has been fined $25,000 for "directing profanity and threatening language to a fan".
Video emerged of the point guard engaging in an expletive-laden argument with a fan at his team's game at Utah Jazz on Monday.
The eight-time All Star said the fan told him to "to get down on [his] knees like [he] used to".
"I think it's racial, inappropriate and insensitive," Westbrook, 30, said.
Utah later announced that they had banned the fan permanently from attending any events at their Vivint Smart Home Arena following "excessive and derogatory verbal abuse directed at a player" - a violation of the NBA Code of Conduct.
"How it started was a young man and his wife in the stands told me 'to get down on my knees like you used to'. To me, that's just completely disrespectful," Westbrook told reporters after the 98-89 win in Utah.
"If I had it to do over again, I would say the exact same thing. I truly will stand up for myself and my family.
"As for beating up his wife, I've never put my hand on a woman. I never will. Never been in any domestic violence before.
"But once he said the comment, and his wife repeated the same thing as well. That's kind of how that started."
Local media in Utah identified the fan in question, who denied any alleged form of racial abuse.
Shane Keisel spoke to TV station Salt Lake City NBC 5 from courtside, saying: "I never said a single swear word to him, not one.
"Initially, I was like, 'Oh, I'm talking with Westbrook, the guy is one of the greats. He's also classless.
"He can threaten me all he wants. I was the one talking to him, but don't threaten a woman. She's 5 feet tall and 110 pounds, man. [She] never said a word to him."
Utah guard Donovan Mitchell claimed he was "personally hurt" by the incident, writing on Twitter: "As a black man living in a community I love, and playing on a team that gives me the opportunity to live out my dreams, this incident hits close to home.
"Racism and hate speech hurts us all, and this is not the first time something like this has happened in our arena.
"The Utah that I have come to love is welcoming and inclusive and last night's incident is not indicative of our fanbase.
"I want to thank my team and the NBA for quickly responding to this hateful incident, and for helping to make our arena a place where all fans and all players are welcome.
"I join other players in calling for all teams to take a stand. We should not be subject to hate speech or racist acts at any time, and definitely not in our arenas."
According to Reuters, Keisel has since set his social media accounts to private and has deleted numerous insensitive posts, including one from October in which he told Westbrook to "go back where he came from".