Great Britain's women beat Portugal to qualify for EuroBasket finals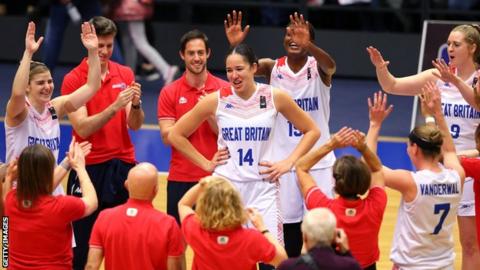 Great Britain's women qualified for next year's EuroBasket finals with an 83-42 win over Portugal in Manchester.
After moving to the brink of qualification with a nervy two-point win over top seeds Greece on Saturday, GB had a much more comfortable evening against the bottom side in the group.
Rachael Vanderwal, a 2012 Olympian, hit five three-pointers in her 21 points to lead the scoring for the home side.
Jo Leedham added 18 points, and WNBA centre Temi Fagbenle scored 17.
Greece's 83-57 win over Israel - in a match which finished two hours before GB's tip-off - meant Chem Buceta's side needed victory in order to qualify.
Despite the visitors' aggressive start, with strong drives to the hoop and offensive rebounding, GB passed the ball better and were 20-9 ahead at the end of the first quarter, with Karlie Samuelson, Chantelle Handy, Vanderwal and Leedham all hitting three-pointers.
That lead was 33-19 at half-time, and GB ended any hopes their visitors may have had of a comeback by winning the third quarter 23-8 to lead by 29.
Vanderwal hit 14 of her points in the second half as GB strolled to their fifth win in the group and a place in December's draw for the finals, which will be held in Latvia and Serbia in June.
Azania Stewart, another Olympian, left the court to a standing ovation with 81 seconds remaining after scoring 10 points on her final appearance for the team.
Stewart said the ovation was "really nice and was just GB in a nutshell".
She added: "We made sure we came out with good energy. We knew Portugal were an aggressive team when we watched them on tape."
Buceta said: "It's a very happy day for us because we've qualified, but in a way it's very sad because we have to say goodbye to her. We have to respect her decision, but I'd love her to change it."
Vanderwal said: "We played great defence. That's where our offence stems from. We shut them down early and shared the ball really well - everyone's unselfish on this team."
Group D
Teams
P
W
L
PRO
CON
Pts
GD
Great Britain
6
5
1
451
397
11
54
Greece
6
4
2
431
379
10
52
Israel
6
2
4
414
443
8
-29
Portugal
6
1
5
348
425
7
-77