British Basketball: Seven board members resign over row with home nations
Last updated on .From the section Basketball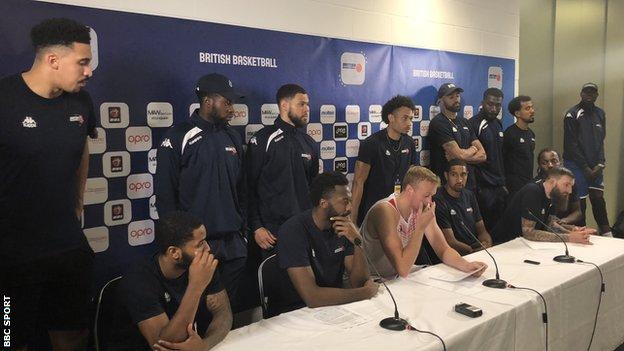 Seven British Basketball directors have resigned following a row with the Home Country Associations.
On Thursday 5 July, the HCAS called a meeting with "just an hour's notice" to push through huge budget cuts and strip the BBF of its regulatory powers.
Outgoing BBF chair Ed Warner said "unconstitutional actions" by the HCAS had forced their decision.
He said he has "repeatedly encountered intransigence and aggression" from the HCAS bosses.
Warner added: "I cannot in all conscience lead an organisation whose three members are so unwilling to work collectively, so devoid of ambition for the game, so full of disdain for Great Britain players and, as evidenced by their actions yesterday, so apparently lacking in professional integrity.
"It is now for the many members of Basketball England, Scotland and Wales to ask themselves whether the leaders of the organisations they belong to are fit for purpose to lead this great game."
The BBF and the three HCAS, which govern the sport in England, Scotland and Wales, have been engaged in ongoing disputes over funding.
The BBF claims the HCAS refused to enter talks on 5 July, in which the BBF's budget proposals would be discussed, cancelling with eight minutes' notice, before calling the general meeting.
There, it "stripped" the federation of its regulatory powers.
The home nations' plans reportedly propose volunteers run the national teams on a "shoestring budget".
Critics have cited figures in Basketball England's accounts which show increases in such areas as wages, website and consultancy costs.
Sports Minister Tracey Crouch says she is "disappointed" an agreement has not been reached between the sport and elite players and that basketball bodies need to "pull their socks up".
"Government stepped in with an exceptional investment to ensure our teams can fulfil their international commitments this year," she said.
"We have been clear that we expect world leading standards of governance from our sports that receive public funding and the basketball bodies need to pull their socks up and get this sorted".
On Monday 3 July, Great Britain's men's team released a statement attacking some of the sport's leaders minutes after their World Cup qualifying defeat by Israel.
UK Sport chief executive Liz Nicholl said it was "disappointing" the two bodies could not reach an agreement,
British teams have struggled for funding in recent years with only an emergency government grant allowing them to complete recent fixtures.
Nicholl said a grant of £305,000 to allow teams to fulfil their international commitments will only be made available if the BBF and HCAS can "work together to find a sustainable financial and governance plan to support its athletes going forward".
In a statement, Basketball Scotland said it was "acutely conscious" that making cuts would be "difficult" in the short term.
"However, we believe that being pragmatic does not stop us from being ambitious for the sport we love," it added.
"All parties will now immediately focus on getting GB teams on court and reducing management overheads as we work to develop the sport from a strong foundation."