British Basketball: Teams to 'suffer diminished support' after budget cut by home nations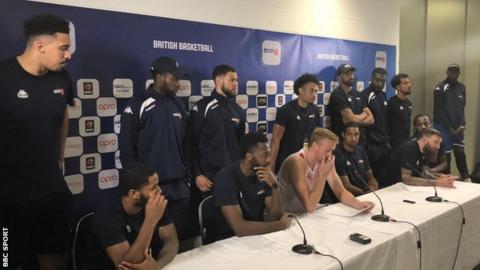 British Basketball has claimed its teams will "suffer diminished support and prospects" after a new budget was set for the sport.
It said most of its powers had been "effectively removed" by home country associations (HCAS), who called a meeting with "just an hour's notice".
The BBF and the HCAS of England, Scotland and Wales have been engaged in ongoing disputes over funding.
BBF chair Ed Warner said it was a "sad day" for GB teams.
British teams have struggled for funding in recent years with only an emergency government grant allowing them to complete recent fixtures.
The BBF claims the HCAS refused to enter talks on Thursday, in which the BBF's budget proposals would be discussed, cancelling with eight minutes' notice before calling the general meeting.
There, it "stripped" the federation of its regulatory powers.
The home nations' plans reportedly propose volunteers run the national teams on a "shoestring budget".
Critics have cited figures in Basketball England's accounts which show increases in such areas as wages, website and consultancy costs.
In a statement, Basketball England said: "The Home Country Associations of England, Scotland and Wales, as the members of the British Basketball Federation (BBF), have agreed the appropriate level of budget for British Basketball for the next two years."
It added it would "continue to work closely" with the BBF.
It comes just two days after Great Britain's men's team released a statement attacking some of the sport's leaders minutes after their World Cup qualifying defeat by Israel.
The background
Funded by UK Sport, the BBF was formed in 2006 with the remit of focusing on the sport's elite teams ahead of the London 2012 Olympics.
Despite countries normally only being allowed to compete as one body during Fiba tournaments, Fiba gave special dispensation allowing both GB and the home nations to compete internationally.
The BBF's UK Sport funding was cut in 2012 as it was deemed the teams would not be "medal hopes" at the Rio 2016 Olympics.
An agreement was made between the BBF and HCAS that the former would become the only Fiba-sanctioned federation - effectively becoming the sport's national governing body, but the roles of the HCAS were never firmly established.
Earlier this year, BBF approached sports minister Tracey Crouch, who after bringing both parties together, agreed that UK Sport would fund the sport so it could complete the season.
Those funds were agreed on the condition that a more workable governance model was agreed within the game.