NBA Finals: Golden State Warriors beat Cleveland Cavaliers in overtime in game one
Last updated on .From the section Basketball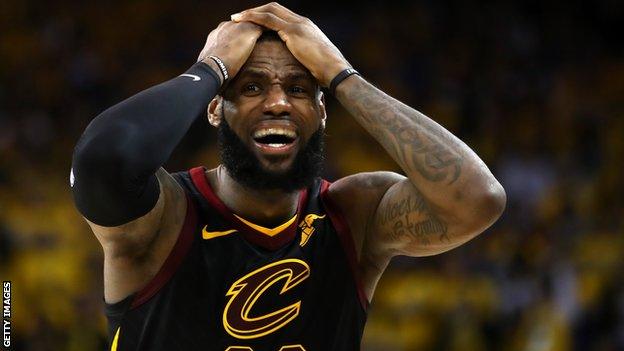 Defending champions Golden State Warriors took a 1-0 lead in the NBA Finals with a controversial 124-114 overtime win against Cleveland Cavaliers, despite a 51-point haul from LeBron James.
Late in the fourth quarter, Cavaliers' JR Smith ran down the clock instead of attempting a game-winning shot.
The Warriors dominated overtime at the Oracle Arena in Oakland.
Game two in the best-of-seven series takes place in Oakland on Sunday night.
Stephen Curry scored 29 points for Golden State, who beat the Cavaliers in the first game of the finals for the fourth year in a row.
James, playing in his eighth successive finals, claimed his best play-off points haul - the highest since Michael Jordan scored 55 in 1993.
"It was epic, and he did enough to carry this team to a victory," said Cavaliers coach Tyronn Lue. "To do what he did tonight and come out robbed, it's just not right."
With 36.4 seconds remaining in the fourth quarter, Kevin Durant was called for an offensive foul on James, but the decision was reversed on review.
Durant levelled the game from the free-throw line, before James put the Cavaliers back in front.
Curry scored a three-pointer as the Warriors opened up a one-point lead.
In the final seconds, with the scores level a 107-107, George Hill missed the second of his two free throws for the Cavaliers. But Smith grabbed the offensive rebound and ran away from the Warriors' basket.
Why did Smith not shoot?
"He thought we were up one," said Lue, although Smith said he knew the scores were tied.
"I tried to bring it out and get enough space to maybe get a shot off," said Smith. "I looked over at LeBron and he looked like he was trying to get a timeout. So I stopped, and the game was over.
The Warriors dominated overtime, outscoring the Cavaliers 17-7, while tempers flared as Tristan Thompson was ejected for an altercation with Draymond Green.
"For our team to come out and play their hearts out and compete the way we did, man, it's bad," said Lue.
Warriors coach Steve Kerr said: "It's not going to be easy. We're playing a great team.
"They've been to the finals four years in a row, just like we have, for a reason. They have a guy who is playing basketball at a level that I'm not sure anybody's ever seen before."