Minnesota Timberwolves take final NBA play-off spot - plus full list of match-ups
Last updated on .From the section Basketball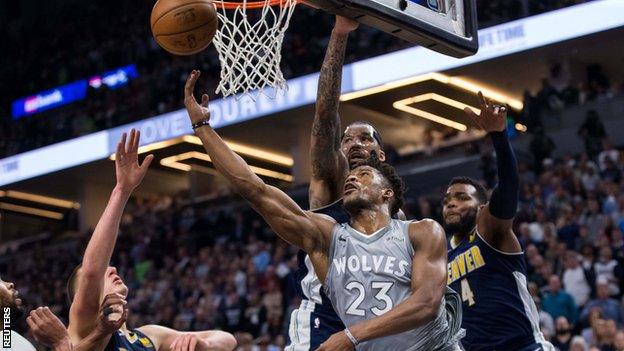 The Minnesota Timberwolves clinched the last NBA play-off spot on the final day of the regular season, as they qualified at the expense of the Denver Nuggets, beating them 112-106.
The Wolves finished eighth in the western conference with a 47-35 win-loss record, with the Nuggets on 46-36.
They face the Houston Rockets in the play-offs, which start on Saturday.
It is the first time since 2004 the Wolves have made the play-offs, the longest drought in NBA history.
Elsewhere, Russell Westbrook became the first player in history to average a triple-double in multiple seasons.
The Oklahoma City Thunder point guard recorded 20 rebounds against the Memphis Grizzlies in a 137-123 win, to complete his triple-double average for the second straight season.
He finishes with an average of 10 rebounds per game, 25.4 points and 10.3 assists.
After 82 games, the play-off picture has been confirmed (seedings in brackets):
Western conference
Houston Rockets (1) v Minnesota Timberwolves (8)
Golden State Warriors (2) v San Antonio Spurs (7)
Portland Trail Blazers (3) v New Orleans Pelicans (6)
Oklahoma City Thunder (4) v Utah Jazz (5)
Eastern conference
Toronto Raptors (1) v Washington Wizards (8)
Boston Celtics (2) v Milwaukee Bucks (7)
Philadelphia Sixers (3) v Miami Heat (6)
Cleveland Cavaliers (4) v Indiana Pacers (5)