BBL Trophy final: Leicester Riders wary of dangerous Sheffield Sharks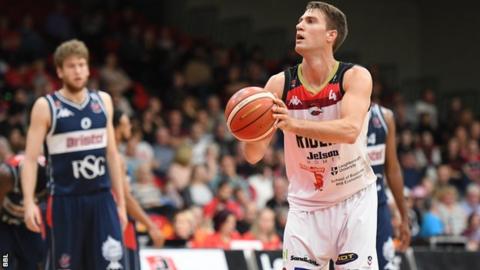 Leicester Riders captain Tyler Bernardini says his team will not underestimate Sheffield Sharks in Sunday's BBL Trophy final in Glasgow.
Although Leicester are top of the league, Sheffield have twice beaten them in finals in the past five years.
In 2016, the Sharks prevented a league and play-offs double for the Riders with an 84-77 win at O2 Arena.
"We're preparing for this final as hard as we've ever prepared," said Bernardini, 29.
"Sheffield has all the talent in the world - their coach is really good - he's won trophies and championships and they've beaten us before. Mike Tuck, their captain - same thing - he's beaten us too."
Sheffield veteran Tuck, 34, was in the play-offs-winning side two seasons ago and was also present when the Sharks last won the Trophy - against Leicester - in Glasgow in 2013.
Tuck says the underdog status works for Sheffield. "They're the best team in the league and we've dropped a few games to them lately," he said.
"That will give them some sort of confidence and we're going in there loose - all the big pressure is really on them."
BBL Trophy stats:
Leicester are aiming to become the fourth side in BBL history to win three successive Trophy finals.
Leicester have beaten Sheffield three times this season and are top of the BBL Championship.
Sheffield last won the Trophy in 2013 - beating Leicester in the final in Glasgow.
Sheffield have not lost to Leicester in a final for 17 years.
"I've seen Leicester in two finals and I'm 2-0 against them in finals. They're a tough team with a long bench and well coached so they're not a team we can take lightly," Tuck added.
"But we're going up there confident - we've had a great week of training."
Sheffield will travel to Glasgow on Saturday to avoid taking risks with the weather on the day.
"We're a confident team but this game is going to be nothing but a big challenge for us," said Bernardini. "Despite the fact that we're 3-0 against them, all those games have been close so we know that this will be a close contest on Sunday."
The Riders set up their chance of three titles in row with a record-breaking demolition of Plymouth Raiders in last year's Trophy Final.