BBL and WBBL Cup finals expected to reach record audience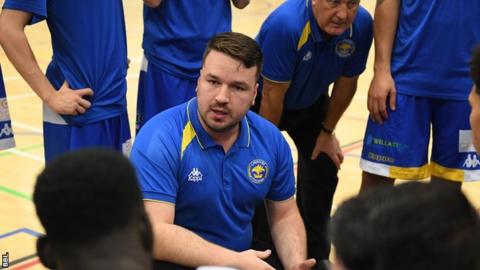 BBL and WBBL Finals - Sunday 28 January
Women's final (12:00 GMT): Nottingham Wildcats v Caledonia Pride
Men's final (15:30 GMT): Cheshire Phoenix v Worcester Wolves
Coverage: Live on BBC Red Button, Connected TV and the BBC Sport website
Worcester Wolves and Cheshire Phoenix will face off this weekend in front of what is expected to be the biggest ever audience for a BBL Cup Final.
An anticipated sell-out crowd at the Birmingham Arena will also see the WBBL Cup final, between Nottingham Wildcats and Caledonia Pride.
It is the 16th successive year that the city has hosted the BBL Cup final.
Both games will be shown live on the BBC's Red Button, connected TV and website and other streaming channels.
The BBL Cup final has an unusual look about it - neither Leicester nor Newcastle, winners of the title for the past six years, have reached the showpiece event.
Instead, Worcester, whose last title was their play-offs success in 2014, will face Cheshire, who are in their first final since 2010.
Cheshire's run to the final included beating Leicester and overturning a 13-point first-leg deficit to win their semi-final against London Lions.
"We've had the harder [route] and there's also the way we came back in the semi-final as well," said Cheshire head coach Ben Thomas.
"So we haven't worked hard all this time just to participate, we are there to win."
Cheshire's success in the Cup has come through the inside power of 7ft centre CJ Gettys and the outside shooting of Great Britain international Orlan Jackman.
"The key to the game may be to stop their inside game," said Wolves captain Alejandro Navajas. "I think the most important thing is to do our job well, that is, to play good defence - finals are won defending."
Worcester's recent addition of scoring guard Michael Ojo and Great Britain forward Rob Gilchrist has given their squad a balance that could stand them in good stead for the remainder of the season.
"I said recently, credit to Worcester Wolves for having players like Rob Gilchrist and Michael Ojo," said Thomas. "Because it's not just good for Worcester, it's good for the league, to have these type of players."
"It's a game for the neutrals as well as the Cheshire and Worcester fans. I'm hoping it will be the spectacle that all BBL fans will be proud of but then I'm hoping that we win for our own fans."
In the women's final, Caledonia, in their second season in the WBBL, are taking on a Nottingham side that has won the league for the past two seasons.
But despite winning 50 league games and losing only 13 since the WBBL started, the Wildcats have lost all five of their knockout finals in that time.
"I don't necessarily think that's a nerves thing," said Wildcats guard Siobhan Prior. "We seem to start fine. I think it's just kind of getting that first one out of the way. Remember when Andy Murray won his first Wimbledon - it seemed like a huge relief and then he managed to play with a lot more fluidity."
Caledonia have already beaten the Wildcats this season and have a chance to win some silverware in only their second season as a top-flight franchise.