NBA: Boston Celtics' Isaiah Thomas plays day after sister's death
Last updated on .From the section Basketball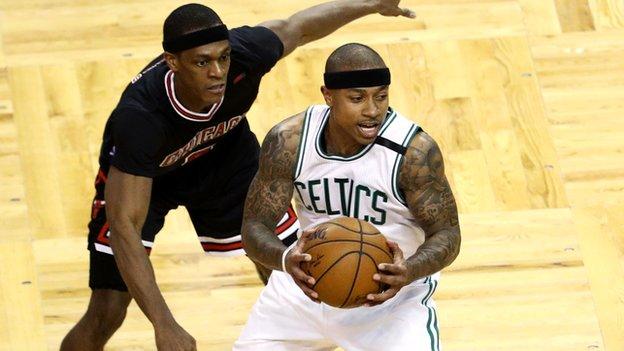 Boston Celtics point guard Isaiah Thomas top scored in his side's opening play-off game a day after his sister Chyna died in a car accident.
He hit 33 points as the Celtics lost 106-102 in game one of the Eastern Conference play-offs first round.
Chyna Thomas died aged 22 on Saturday.
"Isaiah was incredible - he's an amazing player and an amazing person," said Boston coach Brad Stevens.
"The days won't get easier for him, but he somehow plays like that."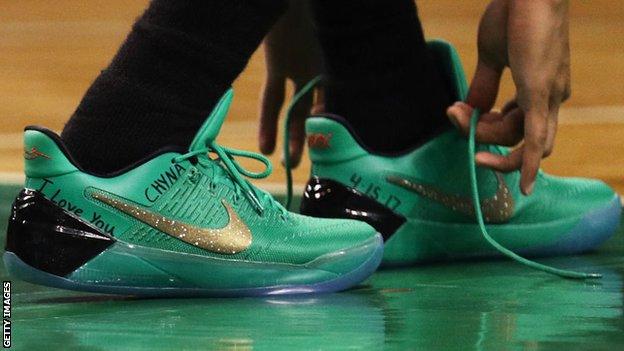 Two-time All-Star Thomas was informed of his sister's death, which happened in their home state of Washington, following the Celtics' practice on Saturday.
Thomas, who also had Chyna's name and the date of her death written on his shoes, led his team-mates out for the pre-game warm-up and received a standing ovation when he was introduced to the crowd at TD Garden ahead of tip-off.
"He was playing for his sister, playing for his family - we appreciate that as team-mates," said Celtics guard Avery Bradley, who was seen comforting Thomas during the pre-game shootaround.
"We just need to continue to fight for him - Isaiah to me is like family. We grew up in the same area."
Game two of the seven-game series takes place on Tuesday in Boston and Thomas will again be allowed to decide whether to play.
"Whatever he needs to do, he needs to do, and we'll help him in any way," said Stevens.