Kevin Love: Cleveland Cavaliers forward sets new NBA record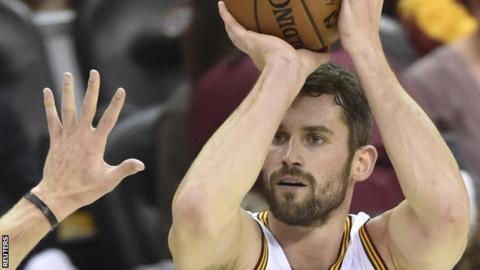 Kevin Love set an NBA record by scoring 34 first-quarter points as Cleveland Cavaliers beat Portland 137-125.
The 28-year-old three-time All Star's tally included eight three-pointers and was three points shy of the record from a player in any quarter.
"I made my first couple shots and it was on from there," said Love.
Love's exploits come after Stephen Curry claimed a record 13 three-pointers in a single game for Golden State Warriors earlier in the month.
Meanwhile, Golden State set a franchise record of 47 assists on 53 baskets - the most in the NBA this season and two more than their previous best from 1994 - as they powered past Los Angeles Lakers 149-106.