Dennis Rodman: Ex-NBA star charged with hit-and-run offence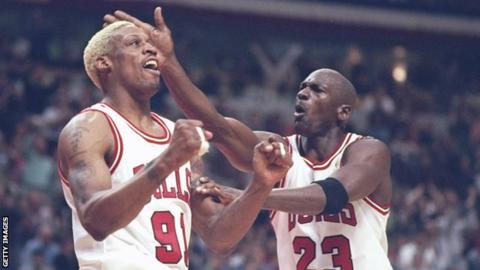 Former NBA star Dennis Rodman has been charged with a hit-and-run offence that carries a maximum sentence of two years in prison.
The 55-year-old is accused of driving the wrong way on a southern California motorway, causing another car to swerve and crash into a concrete wall.
Prosecutors claim Rodman then fled the scene of the crash on 20 July and gave police false information.
He has also been charged with driving without a valid licence.
Rodman's lawyer Paul Meyer, says the incident occurred on a poorly signed exit ramp. He added that Rodman corrected the driving error without the cars touching, stopped and spoke to people in the other car.
The case is scheduled for 20 January.
Rodman won two titles with the Detroit Pistons and then three championships with the famous Chicago Bulls team of the mid-1990s, alongside Michael Jordan.