Plymouth Raiders: Peter Hooley, David Humphries and Deji Adekunle join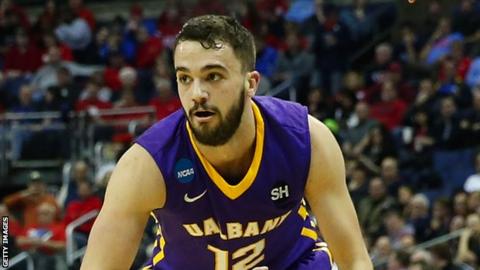 Plymouth Raiders have signed Peter Hooley, David Humphries and Deji Adekunle ahead of the new season.
Humphries and Hooley qualify as British through family history, with Humphries having graduated this year from Marymount University in America.
Hooley captained American university side Albany for the last three years and was named in Australia's 12-man World University Games squad last year.
Adekunle, who plays at centre, will be the club's tallest player at 6ft 11in.
"Throughout his career Peter [Hooley] has scored in bunches in games, so we're adding a valuable piece to our offence," Raiders coach Jonathan White said.
"David [Humphries] has played at a good college in America and he comes to us as a ready-made player for what we need."
On London-born Adekunle, White added: "Deji is something we didn't have last season and something we decided we needed, a 6'11" athlete that blocks shots, rebounds and brings energy on every play."