Drew Sullivan: GB Basketball captain announces international retirement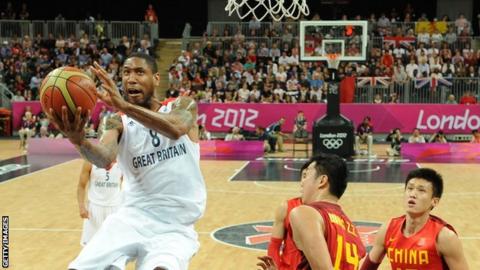 Great Britain captain Drew Sullivan has announced his international retirement.
Britain's most-capped player, the 6ft 8in London-born forward made his 100th and final appearance against New Zealand in 2015.
"Words can't begin to describe my passion for representing my country time and again," said the 36-year-old.
Sullivan will continue to play in the British Basketball League, having recently agreed a two-year contract with the Leicester Riders.
British NBA ace Luol Deng, who played alongside Sullivan at the 2012 Games, paid tribute to his former team-mate.
"British Basketball is going to miss him and so will his team-mates who have learned a lot from him on and off the court," said the Los Angeles Lakers star.
Sullivan represented Britain at three EuroBasket competitions in 2009, 2011 and 2013. He was also part of the England team that won a bronze medal at the 2006 Commonwealth Games in Melbourne.
He then captained the British team at the London Olympics, but they were eliminated at the group stage and failed to qualify for Rio 2016.
GB begin their EuroBasket 2017 qualifiers with a trip to Hungary on 31 August.