NBA finals: Steph Curry ejected as the Cleveland Cavaliers force decider
Last updated on .From the section Basketball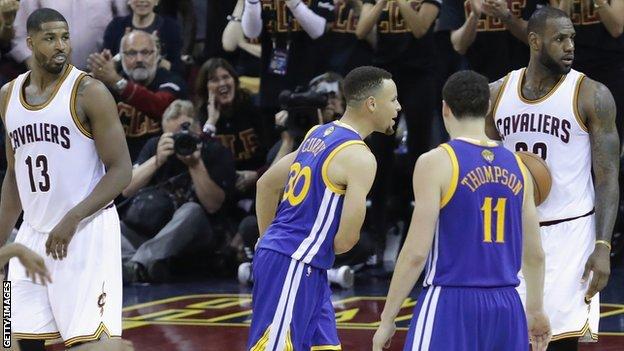 Steph Curry was ejected for throwing his mouthguard into the crowd as the Cleveland Cavaliers beat his Golden State Warriors side 115-101 to force a decisive game seven in the NBA finals.
After fouling out late in the fourth quarter, a frustrated Curry threw his mouthguard, which hit a supporter.
The 28-year-old apologised to the fan before leaving the court in Cleveland.
Victory in Oakland on Monday would make the Cavaliers the first team to win the finals having trailed 3-1.
It would also be their first NBA title.
"I had some stuff I wanted to get off my chest," said Curry, who top scored for his side with 30 points. "It was just frustration and I thought it was kind of hilarious how the last two fouls kind of unfolded."
Warriors coach Steve Kerr added: "He gets six fouls called on him, three of them were absolutely ridiculous. I'm happy he threw his mouthpiece."
LeBron James scored 41 points for the Cavaliers and Kyrie Irving added 23 in front of a home crowd at the Q Arena.
Golden State set an NBA record of 73 wins in the regular season.