Houston Rockets: Basketball fans trapped for hours by flash floods
Last updated on .From the section Basketball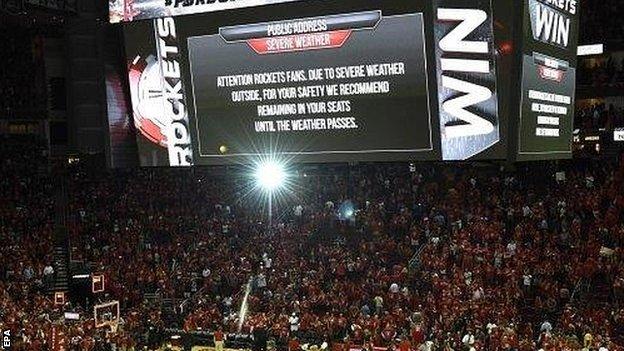 Hundreds of basketball fans in Houston were trapped inside an arena hours after an NBA game because of flooding.
Nearly five inches of rain have fallen on the city since Monday evening.

Fans were advised to stay in their seats overnight because of the weather following Houston Rockets' win against Golden State Warriors in the NBA Western Conference Finals on Monday.
Many were in the Toyota Center for almost 11 hours, until the early hours of Tuesday morning.
The game had finished at 22:45 local time on Monday but many fans were left stranded as the city's freeways were heavily flooded.
Lauren Finkelstein, 33, a DJ on Houston radio station Mix 96.5, spoke to BBC Sport from inside the arena midway through the evening.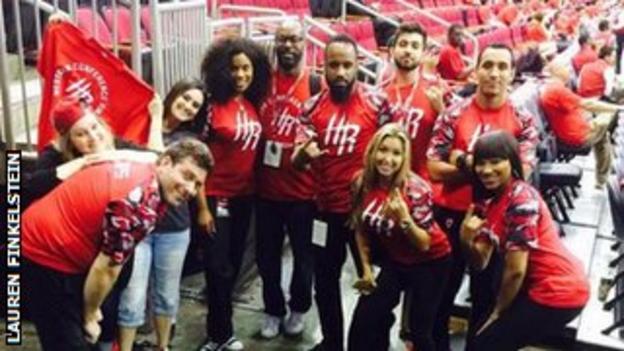 "There are a couple of hundred fans still left now. Thank goodness the Rockets won or I think it would have been a different atmosphere," she said.
"Everyone seems OK, the Rockets won and we are safe, no one is too upset about it.
"The bad weather started just as the game did and did not stop until an hour ago. The thunder was so loud you could hear it inside the stadium.
"The freeways around the city are all flooded so no one can get around town. Houston has had a lot of rain recently, it had been a gorgeous day today but we knew the bad weather was on the way. It just rained solidly. It is the worst it has been in quite some time, I have never known people to be stuck in the arena before."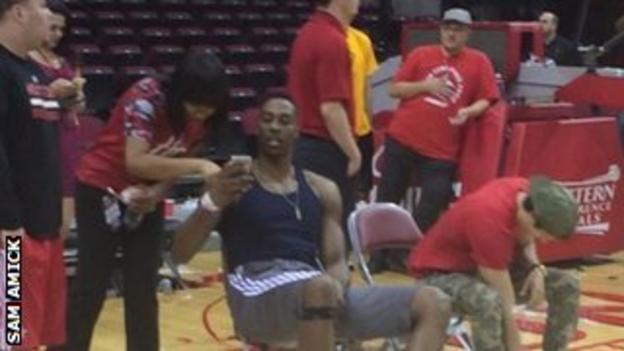 Rockets centre Dwight Howard stayed with the fans, but has since moved to a nearby hotel.
"I don't think it's smart for anybody to try to be out in this weather," Howard told the Houston Chronicle.
Finkelstein added: "People have just stayed here, sleeping in parts of the stadium and they have given us refreshments, snacks and drinks and stuff. I even got a tour of the locker rooms.
"A few people went home before the end of the match because they had seen the alerts and other chanced the freeways, but they have been stuck in traffic because the water is still so high."
The Houston Chronicle added that fans congregated on one side of the arena as staff cleaned ahead of a scheduled Neil Diamond concert on Tuesday evening.
The BBC Weather Centre said heavy rain began in Houston at about 21:00 local time and there have also been thunderstorms, while more heavy rain and tornadoes are forecast for Friday.
At least five people have died and hundreds of homes have been destroyed in flash flooding in the southern US.