Hawks manager Danny Ferry takes leave of absence amid Deng row
Last updated on .From the section Basketball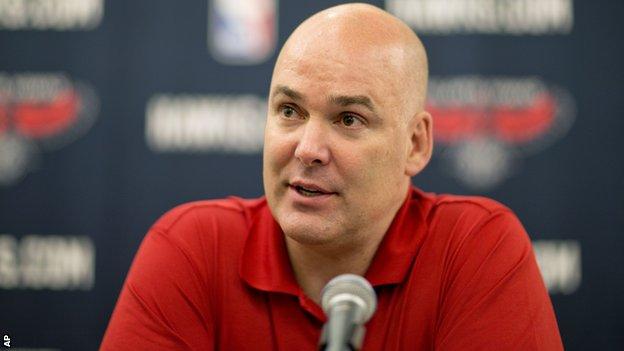 Atlanta Hawks general manager Danny Ferry, who made allegedly racist comments about Great Britain and Miami Heat star Luol Deng, has taken an indefinite leave of absence.
Ferry said Deng "has a little African in him" in remarks made in June.
He has since claimed he was repeating observations from scouting reports.
"This afternoon, Danny Ferry requested, and I have approved, taking an indefinite leave of absence," said Hawks chief executive Steve Koonin.
"It is my hope that this time away from the Hawks organization allows him the privacy he needs to listen to the community, to learn about his mistakes, and to begin the long process of personal healing.
"As a human being, manager and friend, I wish him well as he undergoes this process."
Ferry made a number of comments about Miami Heat player Deng, who was born in what is now South Sudan but moved to Britain with his family at the age of five, in a conference call on 6 June.
In a statement earlier this week Ferry said he was only repeating comments others had made about Deng and regretted doing so.
Hawks co-owner Michael Gearon Jr has said he recorded the conversation in which Ferry made his remarks about Deng, who responded this week by stating his pride in his African heritage.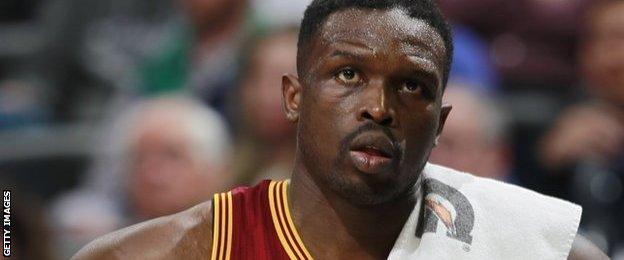 Gearon included the quotes in a letter to majority owner Bruce Levenson that called for ex-NBA player Ferry's resignation, although Ferry has said he has no plans to resign.
In a further race controversy, the Hawks uncovered an email written by Levenson when looking into Ferry's comments that discussed the lack of white fans at the team's home stadium.
Levenson has since said he will sell his controlling interest in the side.
Koonin added: "We have taken several steps to address what we can do as an organization to be better and stronger, including working with a diversity consultant to examine us and to train us to ensure something like this never happens again.
"The process of selling the team, which is to remain in Atlanta, is already under way.
"I am deeply saddened and embarrassed that this has put a blemish on our team and our city."