British Basketball chief calls John Amaechi's criticism a 'cheap shot'
Last updated on .From the section Basketball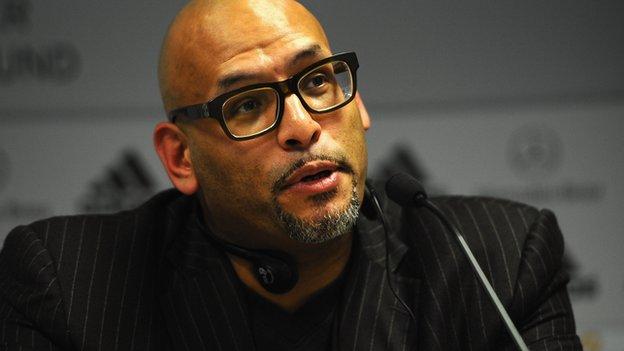 The head of British Basketball has dismissed John Amaechi's criticism of the way the game is run in England, Scotland and Wales as "a cheap shot".
Roger Moreland said Amaechi had a "lot to offer" the sport in Britain but should stop "sniping at the sides".
GB men failed to qualify for the 2015 European Championships amid claims funding cuts had hampered preparations.
Ex-NBA star Amaechi accepted cuts were damaging but said Britain's basketball leadership was not effective enough.
The former England international, 43, described it as "so political, fractured and under-skilled" that he would not hire it to "organise a children's party, much less a strategy for basketball success".
In an article on the BBC Sport website, he also claimed that the coaching was not good enough to develop the stars of the future.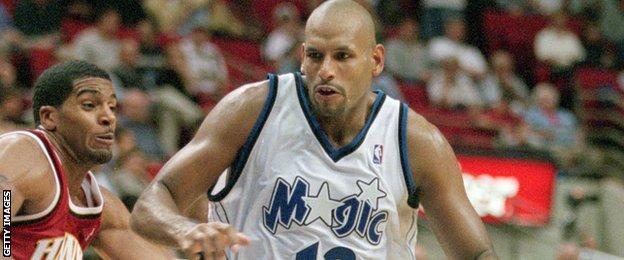 Speaking in the wake of GB's midweek loss to Iceland - a defeat that made qualification for next year's EuroBasket tournament impossible - Moreland rejected Amaechi's criticism.
The British Basketball chairman said his comments about the leadership being fractured were "outdated" and insisted progress had been made to streamline the way the game was run.
He also claimed investment in coaching and players was paying off.
He said British teams were starting to shine in European age-group competition and added that a lot of talented coaches were coming through the system.
"It doesn't happen overnight," Moreland told BBC Sport's Chris Mitchell.
GB's EuroBasket qualifying

Iceland (a)

Lost 83-70

Bosnia-Hercegovina (h)

Lost 80-67

Iceland (h)

Lost 71-69

Bosnia-Hercegovina (a)

Sunday, 24 August
Britain were pitted against Bosnia-Hercegovina and Iceland in qualifying for next year's EuroBasket but have lost all three games so far.
With one fixture left - away in Bosnia-Hercegovina on Sunday - their chances of progressing are already over, leaving the women to carry British hopes in next year's European Championships.
"Frankly, sometimes you win, sometimes you lose," said Moreland. "We just happened to have lost on this particular occasion."
He pointed out that GB had been deprived of the services of NBA players Luol Deng and Joel Freeland.
UK Sport's decision to cut all funding for elite basketball in Britain also hampered preparations.
Ahead of the midweek loss to Iceland, GB player Kieron Achara claimed members of the squad were living off £15 per day, having to sleep in beds to short for them and were forced to take early-morning flights on budget airlines the day after late-night matches to save money.
After the game, GB point guard Devan Bailey felt the lack of finance was not the reason for the on-court failures.
"I don't think that has played any part," he said.
"Everyone would like to see more money, more time on the court, more everything really, but we've been playing for free pretty much since we picked up a basketball."
However, he felt the game in Britain needed united leadership.
"There are a lot of people who say it could be done this way or it could be done that way, but not enough people are out there trying to do it the right way," said the Cheshire Phoenix player.
"That's the actual problem, that there is too much bickering."
Moreland has promised a "root and branch review" of GB men's qualifying campaign, but he took the opportunity to urge Amaechi to become more involved in the running of the game in Britain.
"I really do wish he would," he said.
"John has an awful lot to offer and instead of sniping at the sides and if he really engaged and became positive with people, then maybe that would really help the game in this country."
Asked if there was a future role for Amaechi in British basketball, he added: "I would never rule anybody out, but that's for another day."