NBA finals: San Antonio Spurs beat Miami Heat to take title
Last updated on .From the section Basketball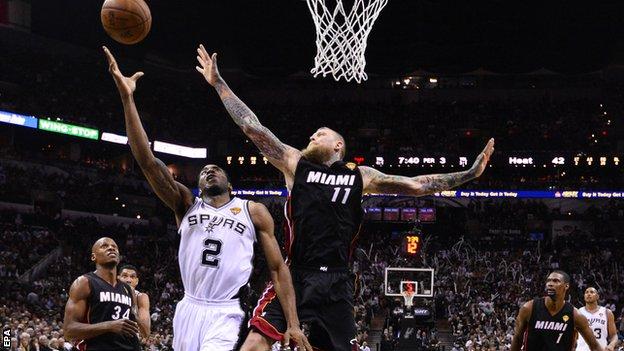 San Antonio Spurs won their fifth NBA Championship on Sunday, beating Miami Heat 104-87 to win the best-of-seven series by four games to one.
Kawhi Leonard continued his excellent form to score 22 points and 10 rebounds in game five and was named the Most Valuable Player of the finals.
Leonard, whose Spurs team lost to the Heat in last year's final, said: "It just feels like a dream to me."
The 22-year-old, is the youngest finals MVP since team-mate Tim Duncan in 1999.
The small forward said: "Losing in the semi-finals in my first year, and losing the championship in my second year, and now winning in my third year, it just makes you believe in your craft and your hard work."
San Antonio trailed by 16 points in the game's first seven minutes but outscored the Heat 55-29 over the second and third quarters to take control.
LeBron James, the four-time NBA MVP who led the Heat to titles the past two seasons, scored 31 points but was largely ineffective after the first quarter when he had 17 points.
The deposed champion was gracious in defeat, saying: "They were the much better team."
"That's how team basketball should be played. It's selfless. Guys move, cut, pass, you've got a shot, you take it, but it's all for the team and it's never about the individual."
San Antonio and Miami split the first two games of the series but the Spurs were virtually flawless in the next three games to claim the title.