Derby Trailblazers revel in title success
Last updated on .From the section Basketball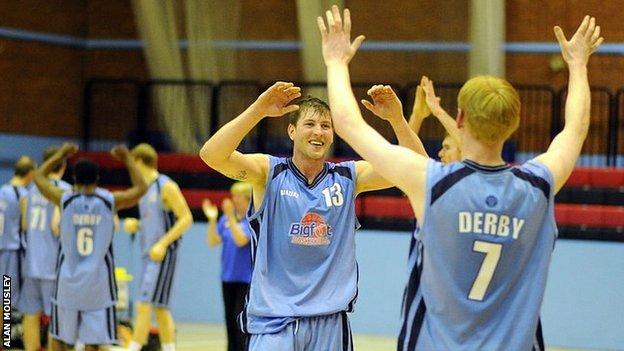 Derby Trailblazers coach James Maudsley says his championship-winning team were given extra motivation by the chance to defy their critics.
Derby were relegated last season but secured the England Basketball Division Two title with a game to spare thanks to back-to-back weekend wins.
Maudsley said: "There was a lot of hype about certain teams and a lot of people discounted us from being contenders.
"It's really pleasing to prove the doubters wrong."
Saturday's win over London United and the victory over Brixton Topcats 24 hours later meant Maudsley's men secured the title.
Maudsley added: "Huddersfield had assembled a really talented squad; they've got a lot of former Spanish internationals on their team and a very good American in Nick Crowder.
"Ipswich have been well coached throughout the year; they've got some real size and in Josh Johnson they've got one of the best guards in the league.
"And Brixton hadn't lost at home all season until we beat them. So for us to finish above those three teams is a major achievement."
Derby Trailblazers head coach James Maudsley and American forward Alex Dorr will be on BBC Radio Derby on Thursday evening from 18:15 GMT. You can listen by clicking this link