Brooklyn Nets coach Jason Kidd fined for deliberate drink spillage
Last updated on .From the section Basketball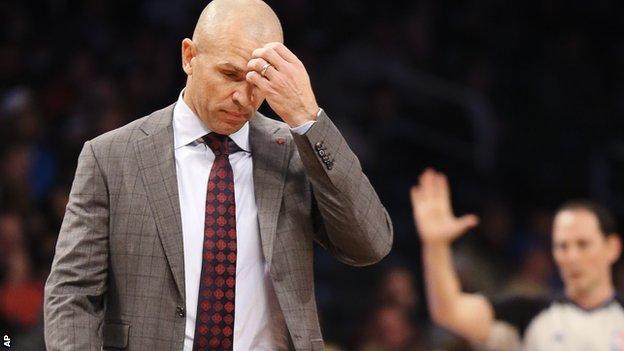 Brooklyn Nets coach Jason Kidd was fined $50,000 (£30,000) by the NBA for spilling drink on the court to delay the latter stages of a recent game.
Kidd's team were trailing the LA Lakers by five points with 8.3 seconds left when Kidd appeared to tell Nets reserve Tyshawn Taylor to bump into him.
The Nets had no timeouts left, but despite a brief delay they could not alter the 99-94 score to the Lakers.
"The cup slipped out of my hand while I was getting Ty," Kidd said.
Television footage appeared to show Kidd instructing Taylor to "hit me" as the player approached him, with ice and liquid spilling onto the floor from the coach's cup after the pair collided.
Kidd denied suggestions he had deliberately spilled the drink.
"Sweaty palms. I was never good with the ball," he said. "In the heat of the battle, you're trying to get guys in and out of the game, and the cup fell out of my hand."
The Nets have won four and lost 11 games in the Atlantic Division of the NBA's Eastern Conference this season.