Newcastle Eagles: Gause and Lasker target return to success
By Matt Newsum
BBC North East and Cumbria Sport
Last updated on .From the section Basketball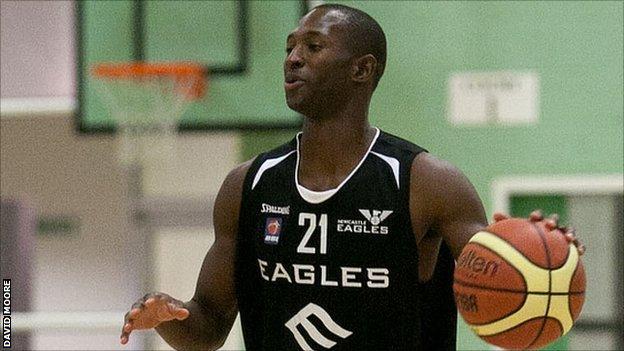 Drew Lasker sums up neatly the reason he swapped life on the south coast with Plymouth Raiders for the long haul north to join Newcastle Eagles - it is all about "winning".
Winning is something the Eagles have done frequently, lifting 17 trophies in nine years, but with no silverware to show from 2012-13 the Eagles have recruited Lasker, Malik Cooke, Stuart Thomson and Paul Gause in a bid to again push for honours.
"I'm not chasing any stats, I am at a point in my career where winning is the most important thing," 30-year-old Lasker told BBC North East and Cumbria Sport.
"Since I've been in the league, and this is my ninth year, Newcastle has always been the team that wins. Last year they didn't win but they were right there."
Only player-coach Fab Flournoy, veteran Charles Smith and Darius Defoe remain from last term, as the Eagles seek a change in fortunes after a trio of runners-up finishes.
However, the blend has worked well thus far, with friendly victories over Team USA Select, Leeds Carnegie and Team Northumbria in preparation for the opening night tip-off against rivals Durham Wildcats on Friday, 27 September.
"Most of us have actually hit it off straight away," Lasker added.
"That's a thing that is taken for granted, the chemistry on and off the court so far as personalities fit, which is huge and makes a difference.
"I've been part of teams where there's been a lot of new faces and sometimes personalities just don't fit, but this team is always laughing and joking and enjoying each other's company.
"I think we've got the perfect fit."
Lasker's thirst for trophies is shared by the returning Gause, who formed part of the Eagles' all-conquering outfit of 2012.
The New Jersey native, 27, left the club for spells in Morocco and Slovakia the following campaign before returning to Sport Central this summer.
"They win - if you come to Newcastle your chances of winning are pretty good," Gause said.
"No player wants to be anywhere that you just know that you're not going to be any good, so if you can get the chance to come to Newcastle where it's a great city, great fan-base and club.
"The history is good and it's a great start for a young guy to get a great resume and a few trophies under the belt."
Gause's explosive impact in the BBL during the 2012 campaign earned him individual honours in the shape of a Defensive Team of the Year placing, to add to his four BBL medals.
One year older and wiser, he now hopes to play a similarly integral role in the Eagles' class of 2013-14.
"There's different growing pains and learning experiences," he added.
"I learned how to be more of a leader. When I was here last I was one of the newer guys, one of the youngest guys being my second year out [of college] and now it's my fourth year.
"I'm a lot more mature as a player and a person - I think that will correlate to the court and help me to help the new guys make the transition easier."
Such success throughout the club's history carries a certain amount of pressure for a Newcastle Eagles player, but it is a factor that Gause is happy to take on.
"It's a good expectation, to come in and be able to keep the expectation high from one season to the next, you feel like you've done your job," he added.
"You have to come in with that expectation level, be confident in yourself and Fab won't put you in any place on the team where you won't be successful.
"He'll sort us out and everyone will be in a great position for the team and themselves."
There is a determination from the top to return to honours this term.
Last time the Eagles missed out on silverware, they won all four trophies available the following season - and nothing else will satisfy such an ambitious set-up.
"Fab said in our first team meeting, the first thing he said was 'We have to win and bring home some silverware'," Lasker added.
"It doesn't matter who's on court, it's about winning and at the end of the competition we have to be the team with the trophy in our hand."