Great Britain suffer EuroBasket elimination despite Croatia win
By Nick Hope
BBC Olympic sports reporter
Last updated on .From the section Basketball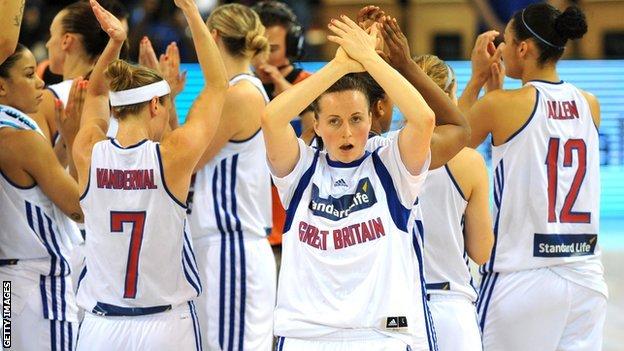 Great Britain were eliminated from the women's EuroBasket despite winning their final game 85-79 against Croatia.
Joe Leedham top-scored for Britain with 26 points, nine rebounds and 10 assists.
After losing their opening two second round games, GB were reliant on Czech Republic defeating Serbia.
However, the Serbs powered to a 75-59 win in the early fixture meaning Britain knew a win would not be enough to keep them in France.
"It was really emotional for me and the team and really hard for us to get going at first," Leedham told BBC Sport.
"We wanted to finish on a win and a high which we did, but in the back of my mind I'm really disappointed that we didn't make it through."
After two opening round victories over Serbia and Latvia, the British women were confident of reaching the knockout phase of the European championship for the first time.
However, a subsequent defeat by France, and then losses to the Czech Republic and Belarus in the second phase left GB relying on other results to go their way.
"In the first two games [Czech Republic and Belarus] we should have had [beaten] them," stated Leedham.
"Losing those hurt us and you can't leave your fate down to other people's results, but this is elite level basketball and you get punished for the smallest of mistakes, which we'll all learn from."
For the British team this was only their second EuroBasket appearance in the modern era and head coach Damian Jennings believe there are many positives to be taken despite failing to reach the quarter-finals.
"We're making history," stated Jennings.
"We haven't been in these tournaments for very long and we're such a young country in basketball terms.
"Winning in the second round for the first time was really significant because it hasn't been done before."
Captain Kimberly Butler, who confirmed her retirement from international basketball after the game, added: "I think we're making great progress.
"Coming off the Olympics last year and this, only our second European championships, I think we belong here, we've put our name on the map and hopefully now GB basketball will be respected."
Failing to reach the knockout phase means GB could not achieve a top-six position and will miss next year's World Championship in Turkey.
Their next competitive fixture will be a qualifying tie for the 2015 EuroBasket competition in Hungary and Romania, which is likely to be in late 2014.
Later this year the team will learn from UK Sport whether they have done enough to secure an extension of their funding through to the 2016 Rio Olympics.