Great Britain coach Joe Prunty wants Ben Gordon for EuroBasket
By Nick Hope
BBC Olympic sports reporter
Last updated on .From the section Basketball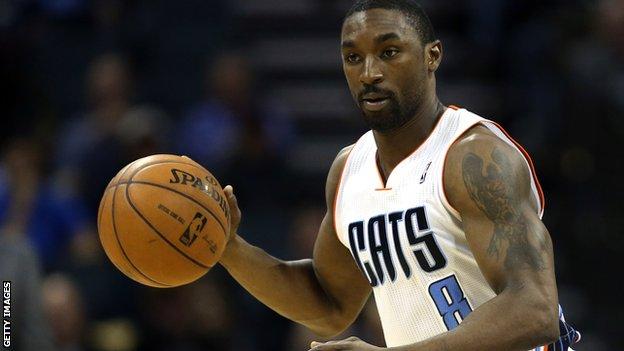 New Great Britain head coach Joe Prunty wants to recruit NBA guard Ben Gordon for the EuroBasket in September, despite his Olympic snub last year.
He was born in London but moved to the United States shortly after his birth.
"He is definitely somebody we would like to have involved," said Prunty, who was appointed as GB boss last week.
"If one year doesn't work I don't think you can totally disregard it and say 'OK we'll not go down that avenue'.
"This year may be a different opportunity for him, the timing might be better.
"I know the London Olympics were important, but now in 2013 with EuroBasket, we need to make this GB team the best that it can be."
Ex-Cleveland Cavaliers assistant Prunty replaces Chris Finch, who left after the last summer's Games, and a key priority over the coming months will be to establish the situation surrounding Chicago Bulls forward Luol Deng.
The South Sudan-born and London-raised 28-year-old played a key role for Team GB at the Olympics and earlier this year wrote to Prime Minister David Cameron personally after basketball had all of its UK Sport funding cut for the Rio 2016 Games.
In February he told BBC World Service that he was unlikely to be available for this summer's European championship, but did not rule out competing in the Great Britain jersey again in the future - something Prunty is keen to ensure happens.
"There's nothing you can't say about how great he [Deng] has been not only for GB basketball but for basketball in general," stated Prunty, who would be open to Deng being present at the EuroBasket camp, even if not available to play.
"With the parties involved; myself, Luol and his people, there has been contact and we'll work through that situation specifically to him and how he will be involved."
In February, UK Sport announced that it would reverse its decision to provide no support for basketball through to the 2016 Olympics and said the sport would receive £7.5m to be split between the men's and women's programmes over the next four years.
The reprieve though is conditional with the teams needing to maintain their year-on-year improvements, but that is not something Prunty feels brings added pressure.
"We can't control that [the funding]. What we can control is what we do on the floor," said the American.
"The priorities this year will be to have the best EuroBasket we can possibly have and to play as well as we can, to win games.
"The important part is for us to go out and play as well as we can and then the rest of the things will take care of themselves."
Ahead of the men's EuroBasket in Slovenia, between 4-22 September, the team will head back to the Olympic Park to take on Puerto Rico in an international friendly game at the Copper Box.