San Antonio Spurs just one win away from NBA title
Last updated on .From the section Basketball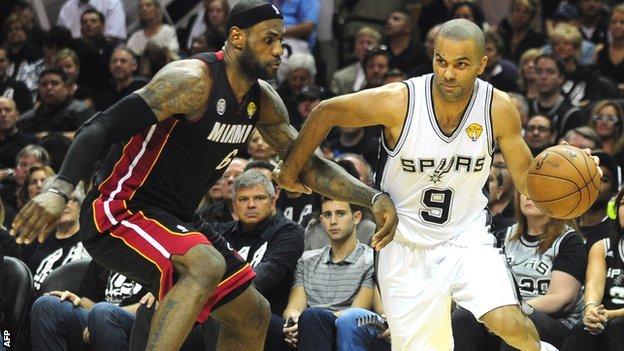 The San Antonio Spurs are expected to come out shooting against LeBron James' Miami Heat as they seek the win that will give them this year's NBA title.
The Spurs lead 3-2 against the Heat in the best-of-seven series with both remaining games scheduled in Miami.
San Antonio, led by France guard Tony Parker, have the Finals' star man in Danny Green, who has scored a record 25 three-pointers in the series so far.
Miami are looking to retain the title they won by beating Oklahoma City.
The Heat were thought to be unbeatable after assembling James, Dwyane Wade and Chris Bosh as the nucleus of their team in 2010.
Although they won the NBA title last season, they were defeated in the 2011 final series by the unfancied Dallas Mavericks.
They have found the experienced Spurs squad a difficult nut to crack in the Finals, despite being the favourites for the title.
San Antonio's nucleus of Parker, Argentine Manu Ginobili and Tim Duncan, none of them born in the US, has previously won the title in 2003, 2005 and 2007.