NBA finals: San Antonio Spurs - boring, old and foreign?

By Chris Mitchell
BBC World Service at the NBA Finals in San Antonio
Last updated on .From the section Basketball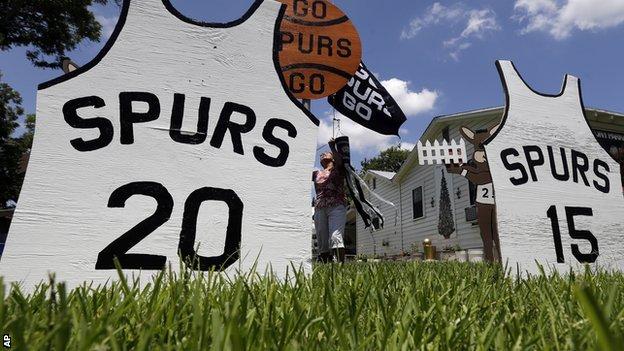 Everywhere you go in San Antonio there is a sign - usually of gigantic proportions - emblazoned with the message 'GO SPURS GO!'
The locals in this Texas city love their team of international stars and are willing them on to beat the Miami Heat - they are currently tied at 2-2 in the best-of-seven finals series - and win an unlikely fifth NBA championship.
But go beyond the city limits and the love soon evaporates. Traditionally the Spurs have been the team nobody likes. But why?
"They're boring... They're old... They're foreign." Three things you'll hear from basketball fans in the United States when they are talking about the San Antonio Spurs.
They are foreign
The Spurs have nine imports on their roster, including France's Tony Parker, Brazil's Tiago Splitter, Argentina's Manu Ginobili, Australia's Patty Mills and Canada's Cory Joseph.
Does that mean Americans find them hard to love? According to Associated Press basketball writer Brian Mahoney "it does a little bit, because when they come to the NBA people don't know who they are and they don't naturally follow them from college".
Mahoney explained that fans in the United States follow players all the way from their school days through college and into the NBA.
"These guys come in from foreign countries and people don't know them," added Mahoney.
"People are not familiar with them and they don't go and watch the Spurs to see who these guys are."
"It's un-American," one Miami fan tells me outside the Spurs AT&T Arena. "There are so many international players."
The Spurs might not be number one in the United States but their foreign legion is much loved abroad.
The Spurs' media days here in Texas are a blur of accents and languages as journalists and camera crews from around the world send news of their stars back home.
In one corner of the court point guard Parker is talking to French paper L'Equipe, Manu Ginobili is surrounded by writers from Argentina and Splitter is talking in Portuguese to Brazilian TV.
Splitter says the team's success is creating a stir back home and helping promote the game in a football-mad country.
"I don't know how it is in France or Argentina right now but I know that in Brazil everybody is talking about it," said the Brazilian. "I am glad. Basketball is not big in Brazil and I am glad to be in this position and that people are watching basketball, not just me. I want basketball to grow there.''
The Spurs are loved, just not in America.
They are old
Yes, the Spurs are old and creaking at the knees.
Tim Duncan, Ginobili and Parker are the Spurs' so-called Big Three and have won the championship three times together, in 2003, 2005 and 2007. Between them they have a combined age of 103
"I do call Manu 'gramps' and big Timmy 'uncle'," jokes the Spurs' Australian guard Patty Mills.
But behind the three wise old men there lies a new generation of talent waiting to take over, like guards Kawhi Leonard and Danny Green, and the average age of the Spurs team is actually younger than Miami's.
They are boring
To accuse four-time winners of being boring is hard to swallow.
Sitting courtside watching point guard Parker as he plays against Miami is akin to a night at the very best ballet.
The Frenchman dancing down the hardwood floor, leaping high into the air and using super-quick hands to deliver a ball to the hoop, all the while being pursued by the likes of Lebron James, combines the best in dance, athletics and gymnastics. It's thrilling, not boring.
"I think if Tony Parker played in LA, like [former England footballer] David Beckham did, he would get an enormous fan following. It's just the way the Spurs is, it's a quiet city,'' explained Mahoney.
"It's a quiet organisation and Parker wanted to fit into that. He hasn't gone out and sought himself attention."
Some will tell you their big man Duncan - from the Virgin Islands by the way - doesn't make the most interesting of interviewees, but his story is a classic.
The centre has been with the Spurs since 1997 and is hoping to win his fifth title this year - the same number as Los Angeles Lakers stars Magic Johnson and Kobe Bryant and four more than the self-proclaimed 'King', Miami's James - although Duncan's total would still be one fewer than that of Chicago Bulls legend Michael Jordan.
Victory in this series would mean a championship ring in three different decades, with his first having come with the Spurs in 1999. This is probably his last chance to win the Larry O'Brien Trophy again.
As narratives go that is not boring. It's a tale of endurance, skill and success, the Spurs just don't make too much of a fuss about it.
However, former Nigerian international Ime Udoka - who is on the coaching staff at the Spurs - says things are changing.
"I think we are starting to get some recognition," he said.
"At the time when we won three titles in five years, it was kind of like 'here we go again', but now to see us come back at this age, at this stage, with guys being older, is very impressive.''