GB women stage comeback to beat Serbia at EuroBasket 2013
Last updated on .From the section Basketball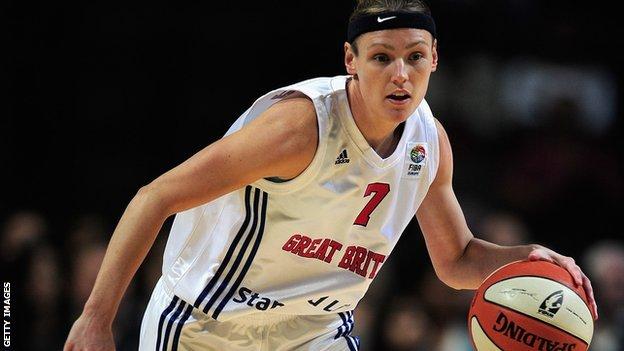 Great Britain's women began their EuroBasket campaign with a 76-68 victory over Serbia in France.
Heading into the fourth quarter, Britain trailed by seven points but a late rally saw them outscore their opponents 24-9 in the final period.
Rachel Vanderwal's three-pointer with little more than three minutes left gave GB an ultimately decisive lead.
Forward Stephanie Gandy came off the bench late on and scored 13 crucial points in the hard-earned win.
"We are very proud of this result. It's a great start for us," said Team GB coach Damian Jennings.
"The thing we are most proud of is that we dealt with the momentum change when Serbia's press was causing us problems.
"We managed to deal with that over a period of time when it started to look like it was going their way.
"But some of the DNA that has been part of our existence in Great Britain, since Tom Maher took over particularly, has meant that we never give up.
"You can work hard but to make decisions under pressure is another thing.
"We have put a group together that is prepared to make decisions under fatigue, under pressure late in the game, and that is what we have been preparing for over the last six weeks."
Britain next play Latvia on Sunday before facing hosts France on Monday, with the top three in the four-team groups progressing to the second stage of the competition.