Durham Wildcats optimistic after debut BBL campaign
Last updated on .From the section Basketball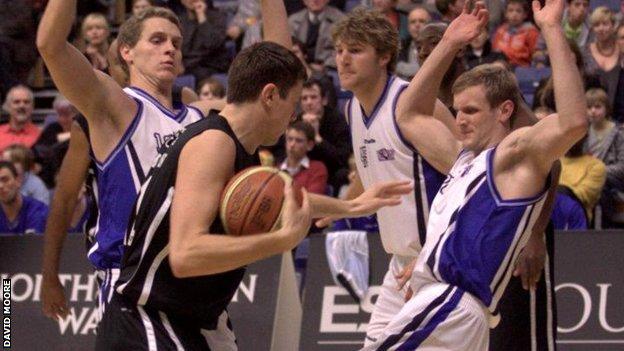 It was a season of contrasting fortunes for the North East's British Basketball League franchises.
While the Newcastle Eagles swept all before them, lifting all four trophies, it was a different story for neighbours Durham Wildcats.
In their debut season, the league's newest outfit finished bottom and won only three games.
Yet just being there was progress for a club that was only formed six years previously.
"We were playing the likes of the Newcastle Eagles week in week out, and we learned a massive amount about what we need to do to compete in the BBL in the future," head coach Dave Elderkin told BBC Sport.
Elderkin had been part of British basketball's top flight during the 1980s and 1990s, notably with the Sunderland franchise who were BBL Cup winners in 1991.
He then had a spell at the London Leopards, but took his leave of the sport in 2000.
"I was the only person in the team who had any previous experience of working in the BBL, from my time coaching at Sunderland and then Newcastle," he added
"But there was a massive gap, 15 years, between coaching then and now, and I was quite surprised by the athleticism and fitness of teams.
"That caught us out, we didn't get it right pre-season, we had players coming in on a staggered basis, didn't have a team ready.
"We're used to that now, and it's very important in the close season to get the strength and conditioning programme ready for the new season."
Off the court there were also challenges.
Chairman Quentin Sloper and his backroom team have managed the step up to a professional league and the financial pressures that come with it.
Ticket sales, merchandising and sponsorship were all challenges to overcome throughout the campaign in competition with 10 established clubs.
"We knew it was going to be tough, and it's hard for everyone when you're losing most weeks to keep going," Sloper said.
"But you forget and don't realise until you get involved how much it's a business, and if you are losing each week it's hard to pull in the crowds and sponsors, so it puts pressure on the business.
"What's going on 'on the court' which should always be the most important thing sometimes ceases to be due to the pressures off it."
Two new franchises have been added to the 2012-13 competition, in the shape of Manchester and East London, and Durham's experience bodes well for both.
"Everyone's been very warm, very kind and helpful and we've received a lot of praise," Sloper continued.
"We were an absolute unknown quantity. I think it shocked people locally let alone Britain as a whole.
"The playing side of things is strange, we've had a lot of compliments for being a strong team and playing nice basketball.
"We were the weakest team in the league, but not as weak as the table suggests."
While Durham's link with the city's university is a boost in terms of exposure, funding and marketing, the turnover of students has implications for the squad.
"We could be looking at a completely fresh start," Elderkin said.
"A lot of people are graduating, three left last year and five this year, and the American players we had were on one-year student visas.
"The next few weeks will be important in terms of player recruitment."
And with a full season completed, there is optimism within the club going into second BBL season.
"We knew it would be a three or four-year journey to be a top-four franchise, and we saw nothing last year that made us think that objective would not be possible," Sloper added.
"We've learned the North East is a hungry basketball region and I believe the area can sustain two franchises in terms of support base and interest from companies.
"What we have is backing of the council but also an outstanding university in academics and sport.
"While our team name may be new we're steeped in Durham University historic traditions and there's a power base there we can build on."