Dallas Mavericks defeat Miami Heat for first NBA title
Last updated on .From the section Basketball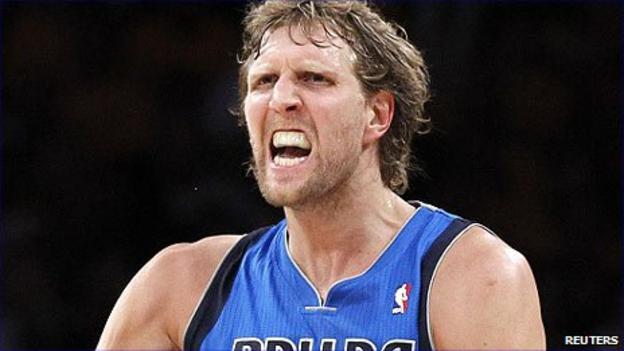 Dallas Mavericks captured their first NBA title with a 105-95 victory over Miami Heat on Sunday to win the best-of-seven NBA Finals 4-2.
Guard Jason Terry scored 27 points in Miami and German star Dirk Nowitzki added 21 for the Mavericks, who won four of the series' last five games.
It was sweet revenge for Mavericks fans after seeing the Heat win their first title in Dallas in game six in 2006.
Mavericks forward Nowitzki was named the Finals' most valuable player (MVP).
Nowitzki, who averaged 26 points per game in the series, hit only nine of 27 shots.
But, as he had all series, he excelled as the game entered its final stages, scoring 10 of his 21 points in the final quarter to snuff out any Miami hopes of a comeback.
"I don't think there's any doubt after this series that Dirk has certainly earned the clout of being one of the all-time great players," said Mavericks coach Rick Carlisle.
"His versatility, how he's done it in the clutch. He goes one for 12 in the first half, and then in the second half he was just absolute money."
LeBron James scored 21 points for the Heat but had a quiet game after the first period, when he scored nine. Chris Bosh added 19, Mario Chalmers 18 and Dwyane Wade 17.
James came up short having teamed up with fellow free agent Bosh to join Wade in Miami last summer as part of the so-called 'Big Three'.
"I've been in this league eight years," said James, who hit nine of 15 shots and had six assists.
"There's no distractions that can stop me from trying to chase an NBA championship.
"It hurts of course. I'm not going to hang my head low. I know how much work as a team we put into it."
Dallas, buoyed by eight points from Nowitzki and six from Jason Kidd, outscored the Heat 28-21 in the third quarter to take an 81-72 lead into the final frame.
Guard JJ Barea scored five points as the Mavs extended their lead to 89-77 with eight minutes remaining and the Heat never got closer than seven for the remainder of the game.
"They had timely shots, they had timely offensive rebounds, they never got flustered," Bosh said of the Mavericks.
"They just kept their composure and kept coming in waves. And when it was time, they just stayed tight and they executed very well."