GB coach Maher 'not concerned' by Atlanta Dream defeat
By Jessica Creighton
Olympic sports reporter
Last updated on .From the section Basketball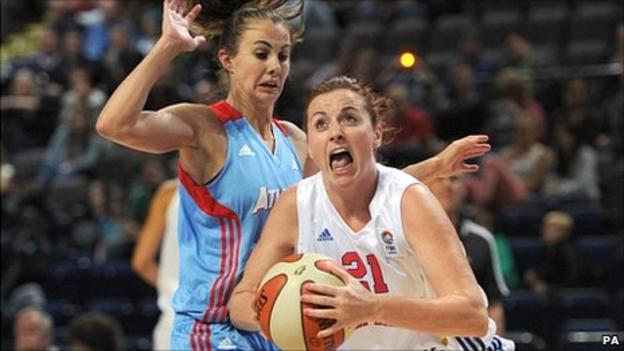 Coach Tom Maher is pleased with Great Britain's progress before the European Championships, despite Sunday's 82-51 loss to the WNBA's Atlanta Dream.
"None of our girls could try out for that team. We were considerably outmanned, talent-wise, but we kept it to a reasonable margin," he said.
"We were always going to be totally out-matched physically. They had long arms and longer, leaner bodies.
"But you've got to keep it in perspective. It wasn't so bad."
Maher's team were out-classed in Manchester as Atlanta celebrated becoming the first Women's NBA team to play in Europe.
The British women now head to Latvia for matches against Slovakia and Latvia on 9 and 10 June - further warm-up for the Eurobasket competition in Poland, which tips-off on 18 June.
GB will face a tough time getting out of their group which includes Belarus, Israel and the Czech Republic, who won a silver medal at last year's World Championships.
Julie Page, who put away 10 points for GB during Sunday's game, believes the team's experience against WNBA opposition will stand them in good sted.
"They were a tough team and they hustled hard so we have to learn how to handle the pressure," she said.
"When we're matched against teams with more athletic players with strength and longer arms, we have to beat them by using our basketball brains instead of trying to beat them athletically.
"As a team we took a step forward and it was great preparation for Eurobasket this summer."
Maher is expected to announce his 12-player squad for Eurobasket in the next two weeks.
He singled out Rachel Vanderwal, Chantelle Handy and Stef Collins too as having made great improvements.
And he is expecting NBA draftee Jo Leedham and Australian-born Natalie Stafford to return from injury to bolster the side, saying, "They're the sort of players that could stand out in a flashy way.
"Other than that, we're a team that has to be blue collar and get it done together."
The former Australia head coach continued: "Our difference in transition is getting better as are our offensive rebounds. I think we've come a long way.
"Our next step is to get some more discipline defensively. Offensively against that sort of talent we were pushed out a lot but that's something we have to learn."