Miami beat Luol Deng's Chicago Bulls in NBA play-offs
Last updated on .From the section Basketball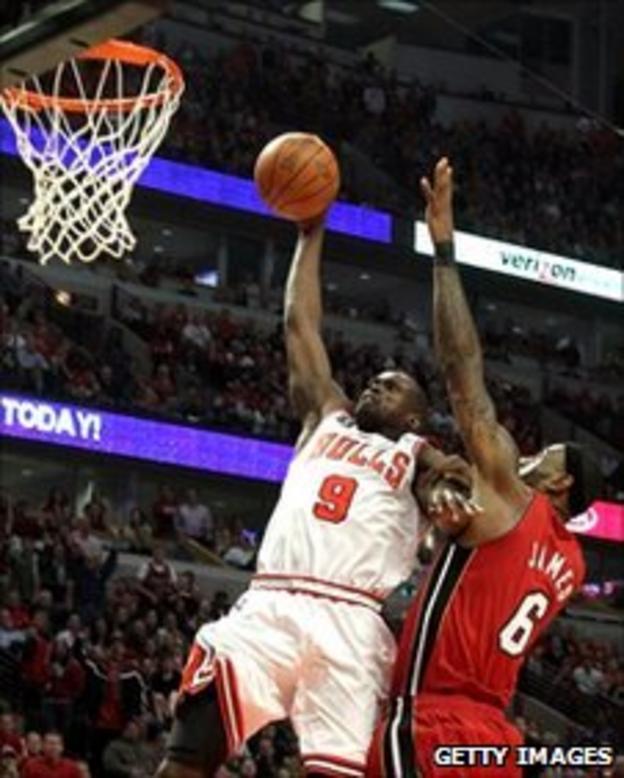 GB star Luol Deng and his Chicago Bulls ended their season with a defeat by the Miami Heat in the NBA play-offs.
The Bulls threw away a 77-65 lead to lose 83-80 as the Heat won game five of their Eastern Conference finals series to seal a 4-1 victory.
The Heat will face Western Conference champions Dallas in the NBA finals - a repeat of the 2006 championship series, which Miami won 4-2.
The best-of-seven series begins in Miami on Tuesday.
The Heat sealed their progress to the finals on the back of an 18-3 run led that was by their big three of LeBron James, Dwyane Wade and Chris Bosh.
James, who missed nine shots in a row before coming to life late in the fourth quarter, led the Heat with 28 points as Miami won four in a row after losing the opening game of the series in Chicago.
The 26-year-old forward left Cleveland to join Miami as a free agent last summer in his search for a first NBA title.
"There's no sense of relief right now," he said. "We've still got work to do. We'll look at this moment, have a little bit of time to go over this, what we just accomplished. But we get ready for Dallas very soon. We don't take for granted this win or take for granted being Eastern Conference champions."
Chicago's Derrick Rose, voted the league's Most Valuable Player for the regular season, led Chicago with 25 points. He had a chance to tie the game from the free-throw line in the final minute but missed his second shot and then a desperate three-pointer at the buzzer was blocked by James.
Deng, who shackled James brilliantly in Chicago's game one victory, had 18 points for the Bulls but made only six of 17 shots.
He is expected to be part of the GB squad that competes in the EuroBasket finals in Lithuania in August.