Cleveland Indians to drop Chief Wahoo logo from 2019 season
Last updated on .From the section Baseball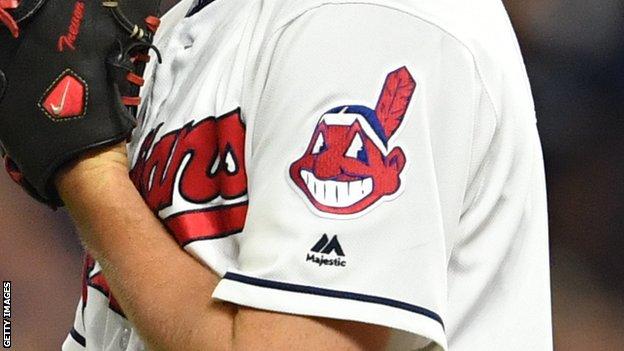 The Cleveland Indians will remove the Chief Wahoo logo from their uniforms from 2019, after Major League Baseball said it was "no longer appropriate".
The logo - a grinning, red-faced cartoon man in a feather headband - has been used by the team since 1947.
The decision was made mutually by MLB and Indians owner Paul Dolan.
"The club ultimately agreed with my position that the logo is no longer appropriate for on-field use," said MLB commissioner Rob Manfred on Monday.
The Indians will continue to wear the Chief Wahoo logo on their jersey sleeves and caps during the 2018 season and will still sell merchandise featuring the mascot in Northeast Ohio to retain the trademark.
The logo has been singled out by Native American groups as an offensive racial caricature, with the team criticised for perpetuating stereotypes about indigenous people with their name and brand.
"We have consistently maintained that we are cognizant and sensitive to both sides of the discussion," said Dolan.
"While we recognize many of our fans have a longstanding attachment to Chief Wahoo, I'm ultimately in agreement with Commissioner Manfred's desire to remove the logo from our uniforms in 2019."
Other major American sports teams also criticised over their names include the NFL's Kansas City Chiefs and Washington Redskins, MLB's Atlanta Braves and the NHL's Chicago Blackhawks.
The Redskins have come under particular pressure to change their name, which half the United States senate called a "racial slur" in 2014.