World Series: Cleveland Indians take 2-1 lead over Chicago Cubs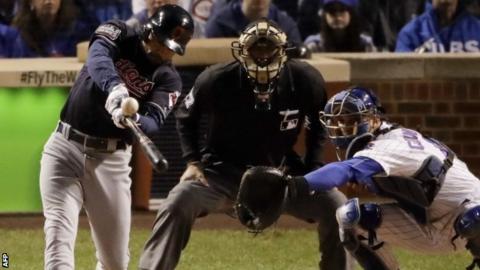 The Cleveland Indians edged 2-1 ahead in the World Series with a 1-0 victory at Chicago.
In the first World Series game at Wrigley Field since 1945, Coco Crisp was the Indians' match-winner.
The 36-year-old outfielder came off the bench for a pinch-hit single that scored Michael Martinez from third base in the seventh inning.
The fourth game in the best-of-seven series takes place in Chicago on Saturday.
The Indians are seeking their first World Series title since 1948, while the Cubs are trying to win their first crown since 1908 to end America's record longest sports title drought.
"It feels good," said Crisp, whose sister nicknamed him "Coco" after a cereal box character.
"You want to do something that can help the team. Fortunately enough for me it was the hit."
World Series schedule
Date
Result/Time
Venue
Game 1
Tuesday, 25 October
Indians win 6-0
Cleveland
Game 2
Wednesday, 26 October
Cubs win 5-1
Cleveland
Game 3
Friday, 28 October
Indians win 1-0
Chicago
Game 4
Saturday, 29 October
01:08 BST (30 Oct)
Chicago
Game 5
Sunday, 30 October
01:15 BST (1 Nov)
Chicago
*Game 6
Tuesday, 1 November
00:08 GMT (2 Nov)
Cleveland
*Game 7
Wednesday, 2 November
00:08 GMT (3 Nov)
Cleveland
*if required