Former NFL quarterback Tim Tebow signs for the New York Mets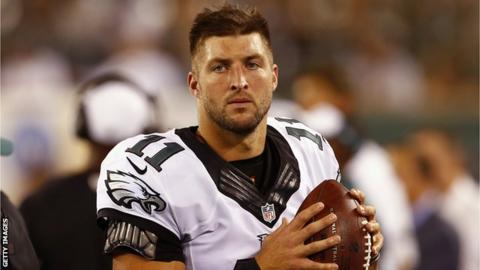 Major League Baseball's New York Mets have signed former NFL quarterback Tim Tebow on a minor league contract.
Tebow, winner of the 2007 Heisman Trophy for best college footballer, will play in the Mets Instructional League.
In August, the 29-year-old former Denver Broncos and New York Jets player announced his plan to change sports.
He has not started an NFL game since 2012 and has not played competitive baseball since high school.
Tebow's last NFL team was the Philadelphia Eagles where he appeared in four pre-season games before being cut in September 2015.
He recently held a workout event in front of scouts and media in Los Angeles in a bid to earn a professional contract.