World Series 2011: Battling Cardinals force Game Seven showdown
By Ian Shoesmith
BBC Sport
Last updated on .From the section Baseball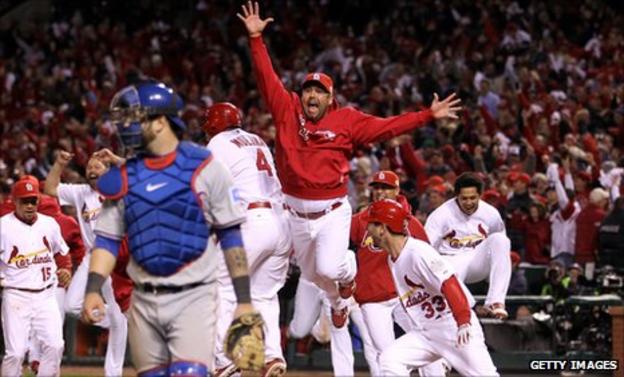 The 2011 World Series will go to the wire after one of the most stunning comebacks in baseball history.
The St Louis Cardinals, trailing 3-2 in the best-of-seven series, were twice down to their last strike but somehow managed to fight back against the Texas Rangers to ultimately win 10-9.
Those comebacks in the ninth and 10th innings paved the way for David Freese to score a walk-off home run in the 11th before an ecstatic home crowd.
Game Seven starts at 0100 BST Saturday.
The Cardinals, aiming to win their 11th World Series title and their first since 2006, were on the back foot for most of Game Six, a truly enthralling match which will be remembered for years to come as one of the finest ever played.
The early stages were dominated by defensive errors as both teams struggled to cope with the pressure.
Routine fly balls were spilled and relatively easy outs were missed because of wayward throws, while sloppy base-running frustrated both managers.
Texas - hoping to win their maiden crown and the first for any team from the Lone Star state - thought their long wait was over when they led 7-4 after the seventh inning.
The Cardinals' offence managed to pull one run back in the eighth but, with two out in the ninth, were on the brink when Freese came to the plate.
But despite being down to his last strike, he saved St Louis with a two-run triple off Rangers closer Neftali Feliz to level the game at 7-7.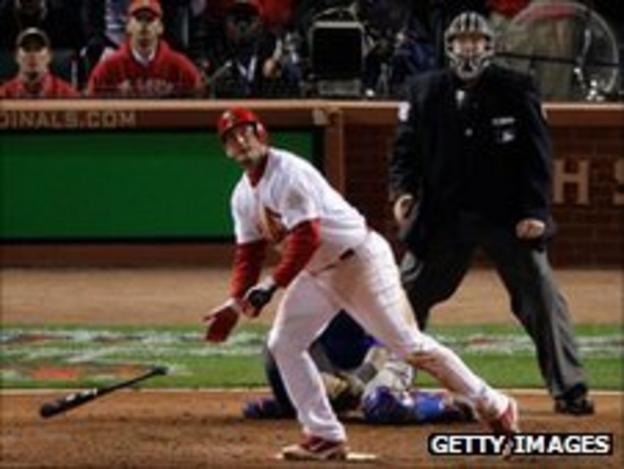 And that was just the beginning of the Cardinals' Houdini-like drama as the match went into extra innings.
In the bottom of the 10th, with St Louis again trailing and down to their last strike, Texan outfielder Lance Berkman's RBI single made it 9-9.
Texas could sense their dreams of tying up victory ebbing away, and Freese confirmed their fate with a huge walk-off homer in the 11th.
It all means that the entire season will come down to the final game for the first time since 2002.
The game will be played in St Louis, and Cardinals fans will be boosted in the knowledge that home teams have won the last eight World Series Game Sevens.
On the mound for the Rangers will be Matt Harrison, whose opposite number is likely to be Cardinals ace Chris Carpenter, despite the fact that he has only had three days' rest since his previous outing in Game Five.